Montana Educator Brings Mars Lesson Close to Home
This year, Montana took a leap toward bringing the Next Generation Science Standards to the state's K-12 teachers by kicking off its first state science teachers conference. This pilot meeting brought together more than 100 of the state's top educators, who shared best practices with the teaching community. One of these experts was Natalia Kolnik, a native of Bozeman, Montana, who leads education programs at the Children's Museum of Bozeman. Her program stood out among attendees (including us) not just because her programs involved designing missions to Mars, but also because of her commitment to making connections with scientists in the area. We caught up with Kolnik to learn more about how, with the help of local companies – including some that have produced components for JPL missions – she turned a JPL lesson into an exploration of careers in STEM.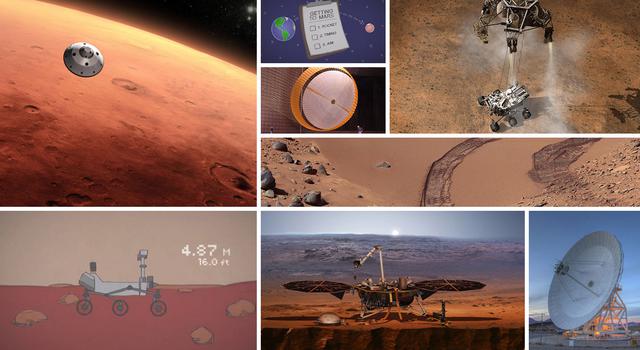 Mission to Mars Unit
In this 19-lesson, standards-aligned unit, students learn about Mars, design a mission to explore the planet, build and test model spacecraft and components, and engage in scientific exploration.
Tell us a bit about yourself and your teaching background.
I am the director of education at the Children's Museum of Bozeman and its STEAMlab in Bozeman, Montana. I've been the director there for six months, so I teach various lessons in a couple different programs for students ages 6 through 12.
I was born and raised in Bozeman and earned bachelor's degrees in journalism and fine arts from the University of Montana, Missoula. I also have a master's in education from the University of Oxford.
I've been teaching formal education classes to different grade levels for the last 13 years in various places around the world, including South Korea and Kosovo.
What unique challenges do you face engaging or addressing the needs of your students?
Teaching at the Children's Museum is wonderful and challenging for the same reason: the diversity of the students. It's like an educational casserole. Our STEAMlab programs are primarily filled with 6- to 12-year-old students who come to us from different school districts and different towns in Montana – or even from different states and countries. During the school year, they learn in public, private and home-school settings. Since the students come with such a variety of educational backgrounds and are a variety of ages, having them all together in a program, like a summer camp, can be challenging.
However, bringing various age groups together allows students of the same age to not feel left out if one of their age peers already knows the material, since it is likely that several others in the room have not encountered it either. Also, since our activities are hands-on, interactive and incorporate a high-tech element, even if students know the concepts and have done the project or activity before, they are still excited to do it again and help others.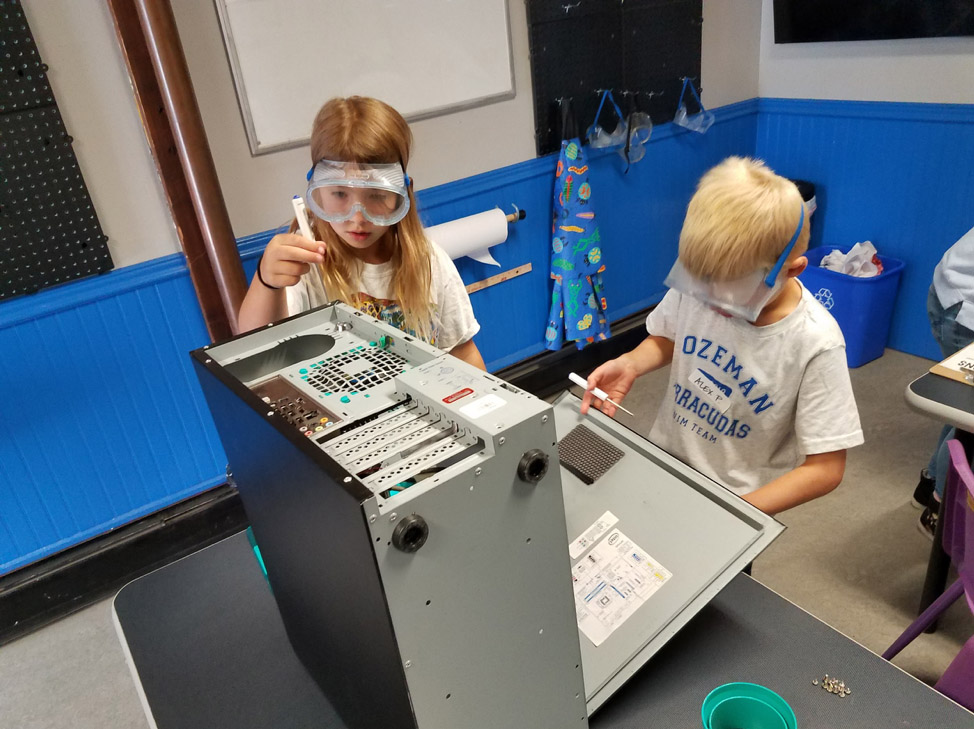 It can also be tough to work with so many new students, rather than to teach in a classroom setting, in which you've had months to develop relationships with the students and establish a classroom rhythm, so students know what is expected. On the other hand, because we run short programs – one day to one week – we have the luxury of flexibility and of letting the content breath. We allow students to take that extra time for exploration, reflection and redesign that might not be possible in a regular classroom setting or time frame.
What NASA/JPL Education lessons have you been using with your students?
JPL has such a wealth of resources. It is so easy to incorporate them into all kinds of STEAMlab programs. For instance, we were able to design and offer a summer camp about Mars in large part because of all of the amazing, up-to-date information available on JPL's website about Mars missions, the planet and all the new discoveries occurring on a daily basis. Activities such as Imagine Mars allowed students to plan a trip to Mars that would allow them to arrive safely and potentially build a habitat. As part of that lesson, we had the students extend their mission by creating a board game capturing the difficulties that could arise, despite even the best planning.
How did you modify the NASA/JPL Education lessons you used to best serve your specific students?
Being so far from a NASA site means we need to be creative to find connections between our community and careers in science. The support of our local business community is an incredible resource for us to build that bridge. We have one such partnership with the Montana Photonics Industry Alliance, or MPIA. Since the Curiosity Mars rover has laser diodes made by Quantel, a company right here in Bozeman that's part of MPIA, we were able to help students connect the local with the supra-global.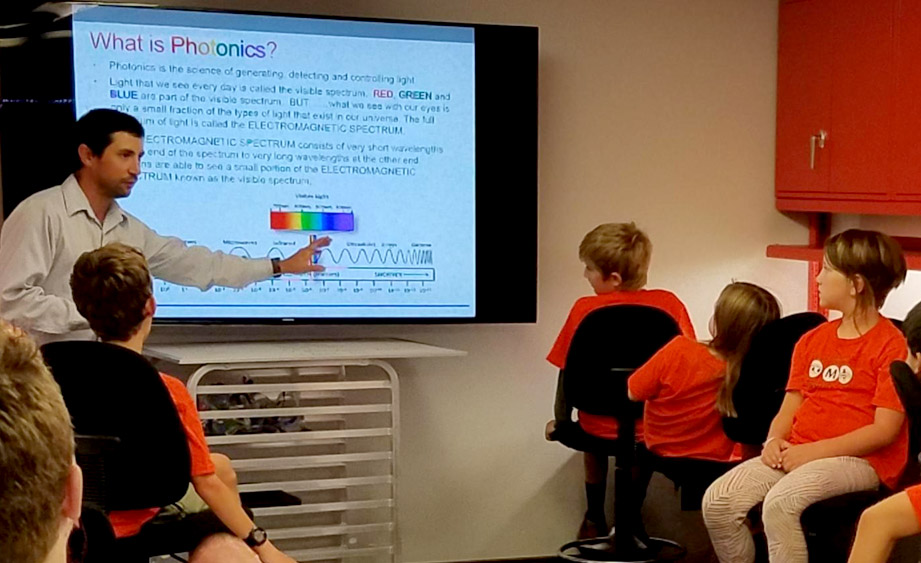 This past semester, volunteers from these photonic companies have been meeting at the museum, brainstorming, planning, designing, redesigning and creating a spectroscope activity to use as one of the museum's field-trip programs. We used the museum's Full STEM Ahead summer camp as a pilot test of the activity. The MPIA volunteers found light sources they work with in their jobs (that could be safely viewed by students) to demonstrate the variety of light spectra all around us. Meanwhile, I used the STEAMlab's 3D printers to print all the end caps for the students' spectroscopes, which are small devices capable of separating wavelengths of light into individual colors.
We divided students into two age groups to observe how they might interact differently with the activity. For example, while one of the MPIA volunteers talked with half of the students about the photonics industry, ways in which photonic technology is used, and related career pathways in Bozeman, other volunteers led the rest of the students in using and understanding their spectroscopes, observing different lights and colors with their new tools.
How did the activity help you meet your objectives? How did students react to the lesson?
The goal for the STEAMlab is to foster an engaging, fun high-tech space in the museum where students ages 7 and older can be a part of a community of other young tech explorers, inventors and tinkerers. It's a place to try out all kinds of ideas to fix a problem or build something new, all while reflecting and talking out the design and its challenges with friends and adult mentors nearby. And if something doesn't work the way they intended, which happens a lot, then they're encouraged to go ahead and try it again.
I gathered feedback about the spectroscopy activities by asking students a few questions and letting them write and/or draw their answers on sticky notes, with each color representing a different question. Their responses varied depending on age but were overwhelmingly positive. All of the students were able to respond with something they remembered learning that was new to them. And their suggestions were primarily about wanting more time to decorate and experiment with their spectroscopes and wanting to talk to more people who work with lasers.
I heard back from the parents of our student mentors about how their children – who had been a part of the activity as helpers – had come home talking all about lasers, how they now want to pursue a career in photonics and now they point out photonics companies that they drive past every day.
---
---
Looking for ways to bring NASA STEM into your classroom or already have a great idea? The Education Office at NASA's Jet Propulsion Laboratory serves educators in the greater Los Angeles area. Contact us at education@jpl.nasa.gov.
TAGS: K-12 Education, Informal Education