Rolling on the Science of an Atmospheric River
In the science world, publishing a paper is a big deal; it's how scientists share their discoveries with the world. So it's no small feat that Vicky Espinoza published her first science paper as an intern at NASA's Jet Propulsion Laboratory. In the paper, her team takes a look at the effects of climate change on global atmospheric rivers, which bring an onslaught of snow and rain to affected areas and have serious implications for people who live there. The Earth science student from the University of California, Merced, met with us this summer to share how she's helping her team take the research further and what it's like to be an intern at JPL.
What are you working on at JPL?
We're studying how atmospheric rivers – which are long jets of water vapor – move through the Earth system and identifying key physical properties that characterize their frequency and magnitude. We're doing this by taking what we currently know about atmospheric rivers and contrasting it with "aqua planet" model simulations, changing one physical parameter at a time. An aqua planet is a theoretical planet that has the same dynamic and thermodynamic properties as Earth's atmosphere and oceans, but with the continents removed. We're also observing how climate change and these parameter changes combine to impact the physical characteristics, frequency and magnitude of atmospheric rivers in these aqua-planet scenarios.
Tell me more about atmospheric rivers and the impacts that they have on our climate.
There is a certain geometry to them that separates them from other storm types. They often tap moisture in the tropics and transport it toward the poles and into and across mid-latitudes. An important feature of them is that they often make landfall on the western coasts of continents – so the mountainous regions like the Sierras and the Andes. When the warm, moist air rises to cross the mountains, it cools down and precipitates out as either snow or rain, depending on the temperature. Just to give you a sense of how much water they can hold, a single atmospheric river can transport 25 Mississippi Rivers of water as water vapor. So the implications are that they can cause severe flooding, or in their absence, they can cause drought periods. So they're very important for water management, especially for regions like California that depend on precipitation for water.

You were the lead author on a science paper published recently on this topic.
Yes. It's a global analysis of climate-change projection effects on atmospheric rivers. It was the first paper that performed such an analysis on atmospheric rivers on a global scale. My mentors, Bin Guan and Duane Waliser here at JPL, created an atmospheric-river detection algorithm, which we used to identify and compare atmospheric rivers globally. We found that with climate change, these atmospheric rivers will occur 10 percent less, but they will be 25 percent wider and stronger. Because the rivers will be more expansive, a given area will experience atmospheric-river conditions up to 50 percent more often despite there being fewer atmospheric river events. Also, the frequency of the strongest of these atmospheric rivers is going to double. It has so many implications for water managers and those living in atmospheric-river-prone regions who will need to start preparing or start thinking about the implications of these large storms.
Is this the first time that you've been an author on a paper?
Yes, it's the first time I've published a paper. My mentors made me first author, which was such a great experience. It was a lot of work. As a Ph.D. student now, it's fruitful to know what it means to be an author of a paper.
What did it mean for you to be able to publish a paper as an intern?
Just being so passionate about a topic, putting your hard work and soul into a paper and then seeing it become reality is – it's something different. I can't even describe it. It makes me feel like I've accomplished something.
What are you studying for your doctorate?
I'm taking a look at water management and sustainable water uses in agricultural regions in California.
Are you hoping to eventually work at JPL?
Yes. JPL has been a dream. I actually applied to JPL three times before I got an internship. I applied as an undergrad, and then during my master's I was, like, "Let me try one more time. Let's give it a go."
It's been such a great experience to intern here. One of the things that I love about JPL is that everyone is so passionate and creative. It's like Disneyland for scientists. It's very motivating to meet people in line for coffee and be like, "Oh, you work on the Hubble Space Telescope? No big deal." And they're just so grounded and so passionate, and everyone's willing to talk to you. So it's been a great experience.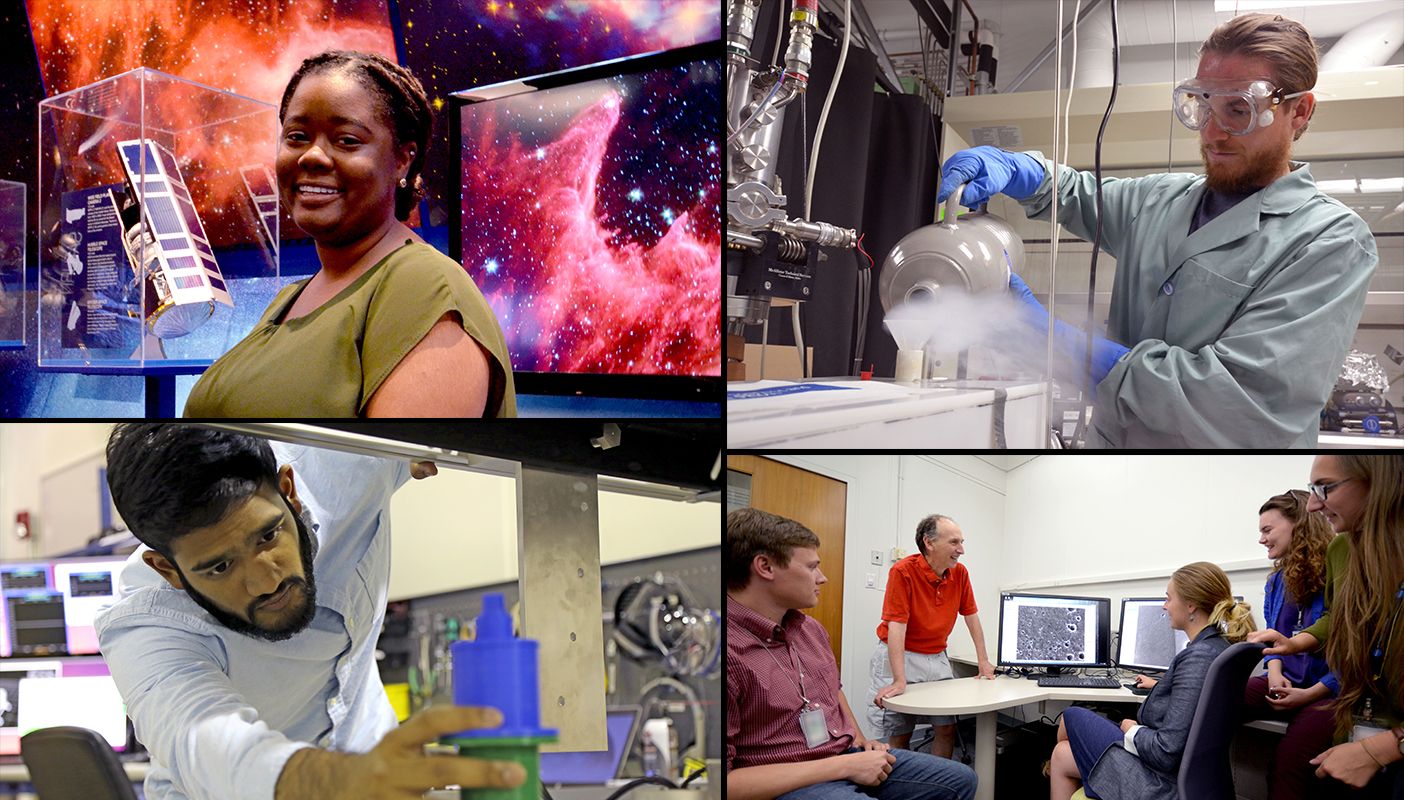 Meet JPL Interns
Read stories from interns pushing the boundaries of space exploration and science at the leading center for robotic exploration of the solar system.
What's the most unique JPL or NASA experience that you've had?
I think the overall experience has been unique. I haven't been in a work environment where the majority of people are so happy to be here and everyone is just so passionate and driven.
What's a typical day like for you?
A typical day for me is behind the computer, so taking a lot of data and running it through a detection algorithm and running a statistical analysis on the data, creating figures and analyzing these atmospheric-river trends.
How do you think that what you're working on might help the average person one day?
Taking a look at this theoretical aqua planet, [a simulated version of Earth with the continents removed], and changing differing parameters of these atmospheric rivers is bringing fundamental insight into how they function, develop and move across the globe. I think that this work will inform citizens, stakeholders, policy makers and water managers on the future of California water.
What got you interested in science in the first place?
I feel like I've been doing science for a long time. My dad works in hydrology, so I've always been exposed to that. But I've always been someone very curious, especially about climate change. I started with air quality and how climate change is impacting the atmosphere. The atmosphere and ocean are connected in some ways, so I started exploring the ocean through an internship. Just being curious about our planet has led me to where I am now.
If you could travel to any place in space, where would you go and what would you do there?
I am a fan of rogue planets, or floating planets. There's an [Exoplanet Travel Bureau] poster that imagines them as planets where people would go dancing. I would want to go to a rogue planet just to figure out what it's like. They don't have a parent star, so they're just out there on their own and there's something so serene and somewhat romantic about that.
---
Learn more about how and why NASA is studying Earth on the agency's Global Climate Change website.
Explore JPL's summer and year-round internship programs and apply at: https://www.jpl.nasa.gov/edu/intern
The laboratory's STEM internship and fellowship programs are managed by the JPL Education Office. Extending the NASA Office of Education's reach, JPL Education seeks to create the next generation of scientists, engineers, technologists and space explorers by supporting educators and bringing the excitement of NASA missions and science to learners of all ages.
TAGS: Women in STEM, Higher Education, Internships, College, Earth Science, Climate Change, Students, Science, Hispanic Heritage Month, Earth, Women at NASA