Seeing Science: Using Visualizations to Help NASA Study Wildfires
With wildfires around the world occurring increasingly often and burning over a longer portion of the year, scientists at NASA's Jet Propulsion Laboratory are working to understand whether the blazes could have long-term impacts on global climate change. In some respects, it's a tough question to answer – not because of an absence of data, but because of an overabundance. That's where intern Jarod Boone, a computer engineering student at Brown University, comes in. As part of a program at JPL that brings together designers, computer programmers and scientists to answer data-heavy science questions using visualizations, Boone spent this summer helping climate researchers visualize tens of thousands of files containing wildfire data collected by instruments on NASA's Terra satellite. Boone shared what it was like visualizing wildfire data as more than a dozen wildfires burned across California (where JPL is located) and how he never quite got used to JPLers' tendency to speak in acronyms.
What are you working on at JPL?
I'm doing the programming for a data visualization tool to help researchers who are using the Terra satellite analyze wildfire data and how high these fires inject into the atmosphere. That's a question scientists are really concerned with because you have all these fires burning up matter, and all the matter that they burn goes into the air and just floats around for many, many days afterward. We don't really know how exactly that affects global climate change, so it's good to take a look at the data.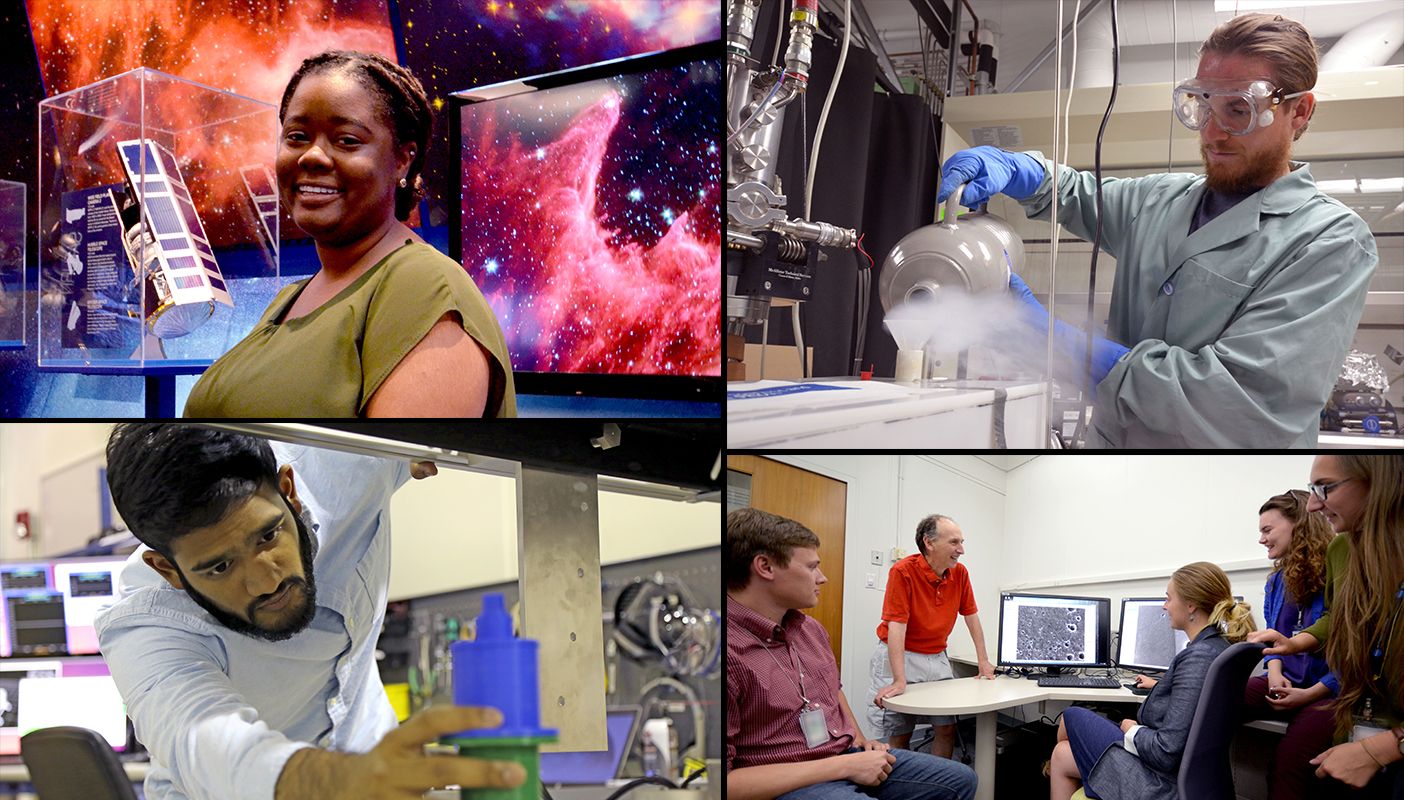 Meet JPL Interns
Read stories from interns pushing the boundaries of space exploration and science at the leading center for robotic exploration of the solar system.
Have you discovered anything so far from these visualizations?
Not quite yet. So the [Data to Discovery Visualization Program] that I'm a part of is sort of a unique program here at JPL. We have two designers and three computer science teams, and we have three projects that we work on. It's very design focused. So in the course of my projects, we have several weeks of what we call contextual inquiry, which is going in and doing interviews, creating prototypes and basically trying to get an idea of what scientists do for their workflow, because it's kind of hard to conceive of what you would do to answer a scientific question if you don't have a scientific background. So we spend a lot of time getting to know what the scientists are trying to accomplish. We're trying to make the best interface possible for them to use this data. That's actually a huge problem in science: There's a huge barrier to entry with a lot of these data sets, so it discourages things like exploratory science.
Have you been adding all the recent wildfires in the western U.S. to your data set?
I'm mostly working with older fires because it takes a bit of time to digitize the fires that are imaged by the Terra satellite. They have to go through this process where they take a bunch of images of the fire – because you have these flat images and you're trying to get plume height and the satellite is moving – and they essentially need to stitch together the images of the fire to get an idea of how high the smoke plume is, which is quite a process. And it has to be done one by one. But there are enough older fires for us to work with.
You're from Massachusetts, a state that doesn't have a lot of wildfires. Has being in Southern California during all the wildfires this summer changed your perspective on how to go about these visualizations?
It's a little hard because the visualizations and working with all the satellite data is so detached, and they're really abstracted away from any actual fires. So it's like I'm just seeing all these data points and getting all these data products, like optical depth. I don't really know what that is, so when I see a real fire, I'm like, "Whoa, that's what that is." But there's not really a huge cognitive connection. It's definitely cool to be able to work with something that's pretty pertinent and definitely a problem in California.
What's the ultimate goal of the project both for you and for JPL?
For JPL, it is to refine our ideas of climate models and better take fires into account. The global climate models right now do a fairly poor job of taking fires into account because it's really difficult. They happen so sporadically. It's not a fluid weather system. It's these discrete fires, and they're just huge dumps of energy. How do we account for that? So that's definitely the end goal for JPL.
I am not a climate scientist. I will not be doing any updates to the climate models, but I do hope to encourage exploratory research. And I'm sort of trying to introduce principles of design and human-centered interfacing and accessibility to climate scientists. Actually, one of my mentors was very excited about what I was working on and had me submit an abstract for the [American Geophysical Union Fall Meeting]. So visualizing is important. You should be able to conceive of the data you're using.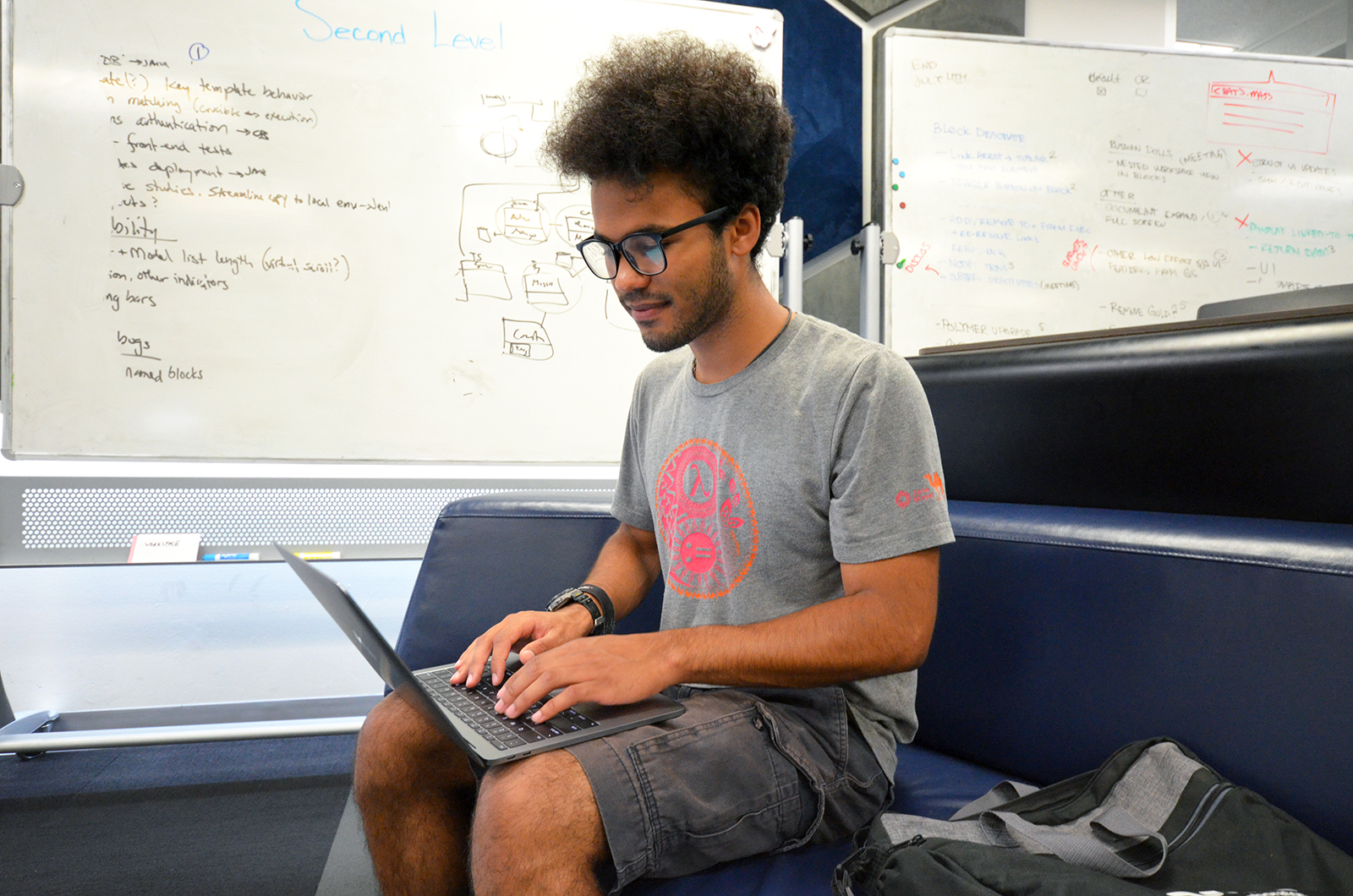 How did you get involved in the program that brought you to JPL to do this work?
I had done a lot of visualization work at my school. Not on purpose, tangentially. I worked at the Brown University Center for Computation and Visualization, so we had a lot of people coming in wanting to do some kind of research visualization and they had a lot of technical problems. So I sort of got sucked into the visualization and research-aid world. One of my bosses knew Santiago Lombeyda, one of the mentors in this program from Caltech, and he said he was looking for data visualization students who were well versed in that and able to do computer science. JPL seemed pretty cool, so I decided to apply.
What are you thinking you want to do eventually?
So long, long term, I have this vision of humanizing computer systems. A lot of software developers don't know entirely how systems work. A lot of consumers are still confused by computers, and we're still using a bunch of folders spread out to represent files rather than something more intuitive or something that represents the data better. The fact that most users need to troubleshoot online to figure out how to use their computer and answer how to fix certain problems is a problem. I feel like we know enough about computers at this point and this generation is, in general, literate enough about computer science to be able to understand what's going on. We can possibly do a lot better making operating systems transparent. That's what I would like to do. I think that would be a cool project.
Is there a particular place that you'd want to do that?
In practice, I would just like to work a little bit in industry, doing systems development either in hardware or software. It's really cool to work with a data system like this, a satellite that has a lot of nuanced issues with how you get the data and what you can do with the data and how you transmit it back and forth and, at the end, what you do with that data problem.
What's an average day like for you?
So we actually split up a decent amount of our time between here and Caltech [which manages JPL for NASA]. Most days I'll have meetings with our research groups just to touch base and see what's happening. On Mondays, we'll have [critiques] all day, which is where our mentors review our projects up to that point. Then, pretty much the rest of the day I'll spend meeting with my designers and programming. Sometimes I go for walks or explore the campus a little bit. But most of the time, I'm just holed up doing the computer thing.
What's been the most JPL or NASA unique experience you've had so far?
During the second meeting that I had with my mentor, Abigail Nastan, she used like five acronyms in the same sentence. And I was just, "Can you just use words?" [Laughs.] You guys should just have an acronyms cheat-sheet for interns.
Also, going to the Mars Yard, sitting in the rocks. Every experience here is a NASA experience.
If you could travel to any place in space, where would you go and what would you do there?
In space? I mean, Earth is really cool. I guess I'd probably go to Jupiter, just because something fishy is going on there. [Laughs.] That planet is too big. Also, I just don't trust gas giants. What do you mean, you don't have a surface? I definitely would not go on Jupiter – I'd just watch it from afar.
---
Explore JPL's summer and year-round internship programs and apply at: https://www.jpl.nasa.gov/edu/intern
The laboratory's STEM internship and fellowship programs are managed by the JPL Education Office. Extending the NASA Office of Education's reach, JPL Education seeks to create the next generation of scientists, engineers, technologists and space explorers by supporting educators and bringing the excitement of NASA missions and science to learners of all ages.
TAGS: Internships, Higher Education, Career Guidance, Computer Science, Visualizations, Data, Earth Science, Wildfires, Black History Month