Summer Interns Build Missions, Do Stellar Science at NASA/JPL
When the offer letter arrived from NASA's Jet Propulsion Laboratory, Kiana Williams could hardly believe it. Thousands of science and engineering students apply each year for internships at the lab known for its dare-anything missions to the planets and beyond. Williams never expected it would be her first internship.
"It actually took me about a week to accept that it was a real offer and that I'd actually be coming to intern at NASA/JPL," she said.
This summer, Williams is joining more than 700 undergraduate, graduate and doctoral students for internships at JPL in Pasadena, California. Over 10 weeks, they will design new ways to study stars, investigate icy moons thought to be hospitable to life, and even help choose a landing spot for the next Mars rover.
"I get the opportunity to design an entire space telescope from top to bottom," said Williams, a senior mechanical engineering student at Tuskegee University in Alabama. "It's kind of a big task, but at the same time it's fun, so it makes my day go really quickly."
One of 10 NASA field centers, JPL is the birthplace of spacecraft and instruments that have explored every planet in the solar system, studied our home planet and looked beyond to discover new worlds. It doesn't just design and build spacecraft, it also operates them, and collects and studies the science they return.
"It's the only place in the world where everyone needed to conceive of, design, build, launch and land spacecraft, get the science data and write the papers about that science data are all in one place," said Matt Golombek, a JPL scientist whose interns over the years have helped choose the landing sites for all five Mars rovers and landers since Pathfinder in 1997.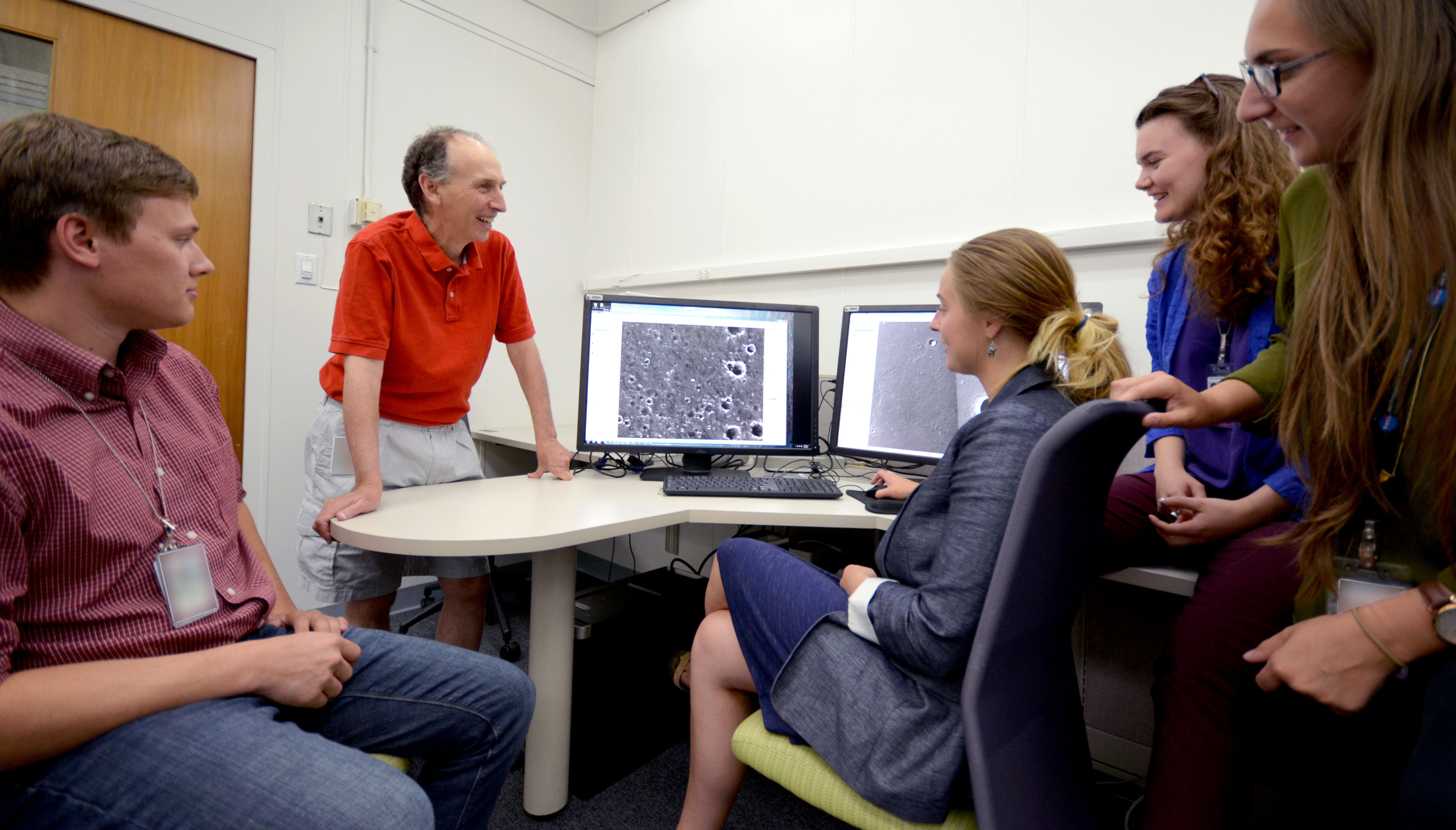 The self-proclaimed "landing site dude," Matt Golombek brings in a host of geology students each year to help identify landing sites on Mars. He has five students this summer helping with site selections for three upcoming missions, including Mars 2020. He says it's rewarding to see how students' JPL experience has a positive impact on their future no matter what they go on to do. (From left to right: Marshall Trautman, Matt Golombek, Rachel Hausman, Carol Hundal, Shannon Hibbard.) Image credit: NASA/JPL-Caltech
The lab's internship programs give students studying everything from aerospace engineering to computer science and chemistry the chance to do research with NASA scientists, build spacecraft, and create new technology for future missions.
With more than 20 active spacecraft plus a to-do list that includes missions to Mars, Jupiter's moon Europa and the asteroid belt, JPL has no shortage of projects ripe for students who are eager for careers in space exploration.
"It's just amazing knowing that what we're doing now will also be replicated on Mars in a few years," said Nirmal Patel, a mechanical engineering student at the University of Michigan who is testing parts for the Mars 2020 rover. "It's surreal almost. I'm still a student but I'm getting to have an impact on this project."
David Dubois, a three-time intern who studies planetary science at the University of Versailles Saint Quentin near Paris, returned to JPL this summer to continue his research on icy moons around Saturn, Jupiter and Neptune. Using data from the Cassini mission (which will end its nearly 13-year mission at Saturn this September) he is modeling the atmosphere of Saturn's moon Titan to better understand its chemical environment – and maybe discover if it could support life.
He says that in addition to access to one-of-a-kind data directly from spacecraft, JPL offers the opportunity to explore new fields of science and even career paths, if students are open to it.
"Being open is certainly something that I've learned from JPL, not being afraid of tackling different problems in different fields," said Dubois, who is about to publish his first paper as a lead author based on his research at JPL.
It's precisely that exposure to its unique career offerings in science, technology, engineering and math – and a foot in the door – that JPL's Education Office, which manages the lab's internship programs, is working to provide to more students.
"Our students are operating right alongside the mentors and participating in the discovery process," said Adrian Ponce, who manages JPL's higher education group. "It's a fantastic opportunity for them, and it's also a great opportunity for JPL. Our internship programs are designed to bring in students from diverse backgrounds and underrepresented communities who share new ways of thinking and analyzing challenges. Many of them will become the next generation of innovators – and not just at JPL."
For Williams, who plans to continue toward a master's degree in design engineering after she graduates in December, her time at JPL is confirmation that she's on the right path and has the motivation to keep going.
"It makes me feel like school is worth it," said Williams of her internship experience so far. "All the stress I'm going through at school will be worth it because you can find places that are like JPL, that make your job fun."
Explore JPL's summer and year-round internship programs and apply at: https://www.jpl.nasa.gov/edu/intern
The laboratory's STEM internship and fellowship programs are managed by the JPL Education Office. Extending the NASA Office of Education's reach, JPL Education seeks to create the next generation of scientists, engineers, technologists and space explorers by supporting educators and bringing the excitement of NASA missions and science to learners of all ages.
TAGS: Intern, Mars 2020, Europa, Cassini, Titan, Science, Engineering, Missions