Update: Sept. 14, 2020 – This feature, originally published on Aug. 23, 2016, has been updated to include information on the 2020 fires and current fire research.
---
In the News
Once again, it's fire season in the western United States with many citizens finding themselves shrouded in wildfire smoke. Late summer in the West brings heat, low humidity, and wind – optimal conditions for fire. These critical conditions have resulted in the August Complex Fire, the largest fire in California's recorded history. Burning concurrently in California are numerous other wildfires, including the SCU Lightning Complex fire, the third-largest in California history.
Fueled by high temperatures, low humidity, high winds, and years of vegetation-drying drought, more than 7,700 fires have engulfed over 3 million acres across California already this year. And the traditional fire season – the time of year when fires are more likely to start, spread, and consume resources – has only just begun.
Because of their prevalence and effects on a wide population, wildfires will remain a seasonal teachable moment for decades to come. Keep reading to find out how NASA studies wildfires and their effects on climate and communities. Plus, explore lessons to help students learn more about fires and their impacts.
How It Works
With wildfires starting earlier in the year and continuing to ignite throughout all seasons, fire season is now a year-round affair not just in California, but also around the world. In fact, the U.S. Forest Service found that fire seasons have grown longer in 25 percent of Earth's vegetation-covered areas.
For NASA's Jet Propulsion Laboratory, which is located in Southern California, the fires cropping up near and far are a constant reminder that its efforts to study wildfires around the world from space, the air, and on the ground are as important as ever.
JPL uses a suite of Earth satellites and airborne instruments to help better understand fires and aide in fire management and mitigation. By looking at multiple images and types of data from these instruments, scientists compare what a region looked like before, during, and after a fire, as well as how long the area takes to recover.
While the fire is burning, scientists watch its behavior from an aerial perspective to get a big-picture view of the fire itself and the air pollution it is generating in the form of smoke filled with carbon monoxide and carbon dioxide.
Natasha Stavros, a wildfire expert at JPL, joined Zach Tane with the U.S. Forest Service during a Facebook Live event to discuss some of these technologies and how they're used to understand wildfire behavior and improve wildfire recovery.
Additionally, JPL worked with a startup in San Francisco called Quadra Pi R2E to develop FireSat, a global network of satellites designed to detect wildfires and alert firefighting crews faster.
Using these technologies, NASA scientists are gaining a broader understanding of fires and their impacts.
Why It's Important
One of the ways we often hear wildfires classified is by how much area they have burned. Though this is certainly of some importance, of greater significance to fire scientists is the severity of the fire. Wildfires are classified as burning at different levels of severity: low, medium, and high. Severity is a function of intensity, or how hot the fire was, and its spread rate, or the speed at which it travels. A high-severity fire is going to do some real damage. (Severity is measured by the damage left after the fire, but can be estimated during a fire event by calculating spread rate and measuring flame height which indicates intensity.)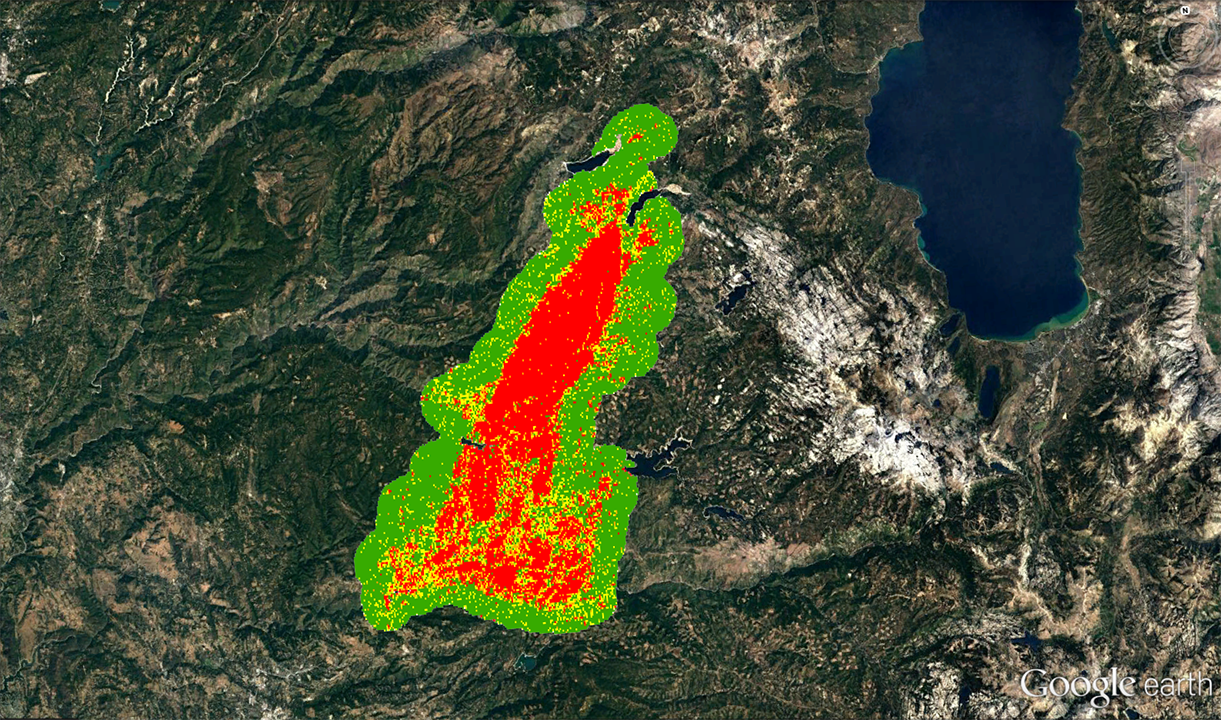 This image, created using data imported into Google Earth, shows the severity of the 2014 King Fire. Green areas are unchanged by the fire; yellow equals low severity; orange equals moderate severity; and red equals high severity. A KMZ file with this data is available in the Fired Up Over Math lesson linked below. Credit: NASA/JPL-Caltech/E. Natasha Stavros.
The impacts of wildfires range from the immediate and tangible to the delayed and less obvious. The potential for loss of life, property, and natural areas is one of the first threats that wildfires pose. From a financial standpoint, fires can lead to a downturn in local economies due to loss of tourism and business, high costs related to infrastructure restoration, and impacts to federal and state budgets.
The release of greenhouse gases like carbon dioxide and carbon monoxide is also an important consideration when thinking about the impacts of wildfires. Using NASA satellite data, researchers at the University of California, Berkeley, determined that between 2001 and 2010, California wildfires emitted about 46 million tons of carbon, around five to seven percent of all carbon emitted by the state during that time period.
This animation from
NASA's Eyes on the Earth
visualization program shows carbon monoxide rising (red is the highest concentration) around Southern California as the Station Fire engulfed the area near JPL in 2009. Image credit: NASA/JPL-Caltech
In California and the western United States, longer fire seasons are linked to changes in spring rains, vapor pressure, and snowmelt – all of which have been connected to climate change. Wildfires serve as a climate feedback loop, meaning certain effects of wildfires – the release of CO2 and CO – contribute to climate change, thereby enhancing the factors that contribute to longer and stronger fire seasons.
While this may seem like a grim outlook, it's worth noting that California forests still act as carbon sinks – natural environments that are capable of absorbing carbon dioxide from the atmosphere. In certain parts of the state, each hectare of redwood forest is able to store the annual greenhouse gas output of 500 Americans.
Studying and managing wildfires is important for maintaining resources, protecting people, properties, and ecosystems, and reducing air pollution, which is why JPL, NASA, and other agencies are continuing their study of these threats and developing technologies to better understand them.
Teach It
Have your students try their hands at solving some of the same fire-science problems that NASA scientists do with these two lessons that get students in grades 3 through 12 using NASA data, algebra, and geometry to approximate burn areas, fire-spread rate and fire intensity:
Explore More
---
Lyle Tavernier contributed to this feature.
TAGS: teachable moments, wildfires, science, Earth Science, Earth, Climate Change, Climate TM