Dr. Christopher Stevens—New Millennium Program Manager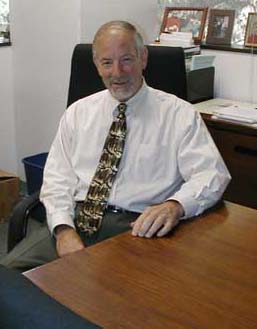 Dr. Christopher Stevens in his office at JPL.
---
Chris Stevens is a biologist. At least that's how he started out his career. So how did he transmogrify into a space technology program manager? Even though at first glance the two careers may seem far apart, a few minutes talking with Stevens about his education and career reveal how naturally the two fields folded together—for him, at least.
As an undergraduate biology major, Stevens wanted to do research. He was particularly interested in marine biology and physiology and the effects of extreme environments on living things. As a graduate student in physiology and biomedical engineering at the University of Southern California (USC), he studied what happens to mammals in high-pressure environments and in zero gravity environments—in other words, under water and in space. But in order to keep one's finger on the animal's pulse or take its blood pressure while it dives under water or gets launched into space, you have to use technology. So an important big part of his graduate work was to participating in the development of bio- telemetry instruments that could measure and transmit data on the vital physiological changes mammals undergo in such environments.
Stevens himself went under water in his spare time. Stevens says, "I was a diver and a biologist and physiologist, and that's how I also got involved in environmental impact assessment work. One particularly interesting study was to determine the I was working with a bunch of other folks doing studies of impacts on the marine environment. We got a contract with the American Petroleum Institute to study the impacts of the '69 Santa Barbara oil spill on the abalone population fishery along the coast of Southern California and the channel Channel Iislands. It was fun. I did it in my off time and got paid union dive scale."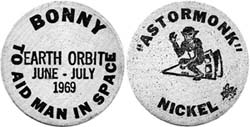 Monkeys in outer space seems to be the theme of this wooden nickel produced in 1969. The wood marks the launch of Biosatellite 3 with the monkey Bonny aboard.
---
While a graduate student, Stevens also worked as part of a USC experiment team with the Jet Propulsion Laboratory (JPL) on the Biosatellite 3 Project. In The objective of this project, animals was to study the physiological and psychological effects in primates of prolonged exposure to microgravity and isolation of space flight and to compare the results with those of prolonged bed rest.and plants were given long rides on satellites and their physical and, if applicable, psychological responses to zero gravity carefully monitored.
After obtaining his doctorate, Stevens continued his research as a member of the USC faculty. One day in 1978, while taking a weekend course to obtain his private pilot instrument rating, he met a fellow pilot who worked at JPL. Learning of some recent environmental engineering work Stevens' team had been doing for the city of Los Angeles, his new friend mentioned that JPL was looking for a supervisor for the environmental sciences and engineering group. So, Stevens checked it out, got the job, and ten years after his first encounter with JPL as a student, came to stay.
In management Stevens began, and in management he has remained. His experience developing instrumentation laid the foundation for several of the management positions he has held at JPL, including the current one. Now, as manager of the New Millennium Program, he finds the challenges particularly interesting.
"It's exciting to have the opportunity to identify advanced technology capabilities that will really be useful in the future and to be able to get these technologies configured to be validated in space," Stevens says.
Stevens' job often takes him far from home, as he works closely with scientists and other managers at NASA Headquarters in Washington, DC, as well as other NASA centers. And even when he could be at home, he seldom is. Although he gave up his airplane a couple of years ago, since he seldom had time to fly it, he still finds time to go on skiing trips or white water rafting trips with his wife, Cory, also a manager at JPL, and, when they can get a bit of his time, their college student son, Matt.
Stevens' own choice of USC as his educational and early career affiliate was quite natural. He and his two sisters had grown up in Southern California, and their father was chair of the Composition Department at USC Thornton School of Music. As might be expected, the kids played piano before they talked. Stevens went on to take up the cello and the French horn as well. As if growing up with a world-class university as a member of the extended family weren't luck enough, at age 12, Stevens got to skip school and spend a whole year in France when his father earned a Sabbatical. It wasn't all frolicking through the vineyards and sightseeing all over Europe, however. The kids had to take all their books and all their assignments for the year, and Dad made sure they did their lessons. He also made sure they learned French.
Biologist, physiologist, biomedical engineer, diver, pilot, musician, skier, rafter, and, oh yes, manager of a challenging, cutting-edge, discovery-enabling NASA program. Christopher Stevens is a busy man.