Dr. Doug McLennan—Space Technology 5, Project Manager
That's Not a Fly, It's a Nanosat!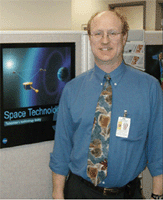 Space Technology 5's
Dr. Doug McLennan.
---
Doug McLennan is a transplant from our northern neighbor, Canada——Quebec City to be exact. His family moved to Williamsburg when he was just five years old, so his father could teach physics at the College of William and Mary. One of five children, Doug was the only one to earn advanced degrees (a Masters and then a Ph.D. in physics from Georgetown University). And, like his father, physics always fascinated him. "I've always enjoyed understanding at a basic level what is going on," he explains, "which is how I see physics and what it is all about."

While he now does very little physics in his career at NASA, he thinks that discipline is quite a useful and important tool. Applied in a practical sense, physics help him to understand how engineers operate, which helps him to manage an engineering group. And, the group he manages is doing some amazing work on nanosat technology for the New Millennium Program's Space Technology 5 (ST5) mission.

In 2006 this mission will launch three small satellites, each not much bigger than a birthday cake, into space where they will be spun like frisbees into orbit around Earth. No ordinary satellites these, they will be measuring our planet's magnetic shield, the magnetosphere. In this harsh environment, ST5 will flight test the experimental concept of miniaturizing a spacecraft and building it to perform the way the "big boys" do.

Because nanosat technology is experimental, the ST5 team had to pioneer the development of the mission's every major subsystem. And, its development includes a plan for future production of multiple nanosats. "Despite its advanced technology, ST5 is like a Model T Ford," says McLennan. "This mission is really a precursor to missions where you build 50 or 100 little spacecraft."

During its validation flight, ST5 will demonstrate the value of using multiple satellites to measure dynamic processes such as those that exist inside our magnetosphere. In order to measure magnetic fields, the sensor must be in the field——measurement can't be made remotely. And, to understand the field numerous simultaneous measurements must be made at different locations. ST5 will do just that. First, however, everything has to be miniaturized, which meant that the team had to take a clean sheet of paper and start from scratch.

"Putting everything on one circuit card and making it small voltage and low mass is a challenge." says McLennan, explaining that routine and mundane things become amplified when you reduce the mass and reduce the power. "That's what is difficult, but that's what makes the mission worth doing."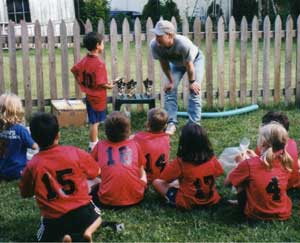 Dr. McLennan enjoys coaching youth soccer.
---
McLennan has previous experience with Earth-orbiting satellites. He was Deputy Project Manager during the development of the Geostationary Operational Environmental Satellite (GOES), which now provides weather and environmental data to the National Oceanic and Atmospheric Administration and other organizations. Although he misses the hands-on of engineering physics, McLennan enjoys managing projects like GOES and ST5. He finds that managing his two young sons at home and groups of ten year-olds (who often complain about "fairness") as a soccer coach, helps him manage people at work. And, being aware of his own flaws helps, too. "You cannot manage people without understanding who you are, being comfortable with your flaws," he declares.

Even after 15 years at NASA McLennan still gets excited about even mundane rocket launches. "When Walter Cronkite took us to the moon, my interest in space was born," he muses. "In many ways, I'm a little kid when it comes to those things. Those early years engendered a sense of fascination with space that is with me today."

Written by Sandi Beck and Diane Fisher.