Linda Herrell—New Millennium Program Architect
"At Home" With Flowers and Fortran, Easels and ECRs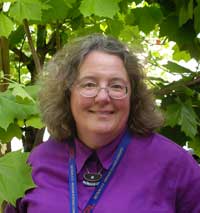 Linda Herrell, Program Architect for the
New Millinnium Program
---
As a teenager, Linda Herrell wanted to be a French translator at the United Nations. She also enjoyed sports and music, singing in school and church choirs (the school's music teacher was also her church's choir director). She even got to sing on a children's television program in Montreal when the school's choir won a city-wide competition. However, once she started college she discovered computers and was hooked——she loved technology and number-crunching. These absorbing interests eventually led her to NASA and the Jet Propulsion Laboratory (JPL), where she is now the program architect for the New Millennium Program (NMP).
Born in Vancouver, Canada, Linda's heritage is an interesting mix of English and Ukrainian. Her Father's farming family immigrated to Canada from England in the 1850's, while her Mother's came from the Ukraine in the early 1900's and found work in the coal mines near Banff, Alberta. Her father didn't follow his family's farming tradition, however——he holds a Ph.D. in physics. From this eclectic mix, Linda inherited a kaleidoscope of interests and the joy of learning. She did well in school and just wanted to "...absorb knowledge, explore, and find out what was out there."
After earning a Bachelor of Mathematics and a secondary school teaching certificate at the University of Texas at Austin, Linda was able to combine her intellectual interests with her love of working with children——teaching 7th grade computer science and math. After two years in Austin she moved to Houston, where she taught those subjects in high school. "That was a big deal in 1973——teaching computer science in secondary school," she muses. "I basically had to make up my own curriculum."
However, her absorbing interest in technology won out. After a year and a half she took a job as a computer programmer, which led to developing structural analysis computer simulations. During this time she earned a Masters of Science in mechanical engineering from the City University of New York. "With a Master's degree," explains Linda , "I knew that the most interesting application of my expertise was at NASA."
Her first major task with the space agency was working on the Hubble telescope, initially as a thermal analyst (before launch) and then as a systems engineer (after launch). She worked with the team preparing for the first servicing mission and the operations of JPL's Wide-Field Planetary Camera. She then turned her skills to the Cassini project, as the payload systems engineer. In that capacity, she served as the interface between the spacecraft team and all the teams working on the project's numerous science instruments: 12 on the spacecraft and six on the Huygens Probe. Once launched, it's taken seven years for Cassini to arrive at Saturn, but Linda declares, "It's been deeply satisfying to watch events as Cassini approached Saturn. All the planning, also part of my job, has now finally come to fruition."
Following the Cassini launch, Linda then brought her experience and knowledge to the New Millennium Program (NMP), which consists of a series of projects that validate subsystem and system technologies in space. The NMP identifies what technologies should be (or need to be) validated in space for use in future NASA missions and NMP recommends how those technologies will get to space. As the NMP Program Architect, Linda works on the "how," researching the most effective way to get to space and how the program might be structured (architected) to do so. The job requires knowledge of spacecraft, launch vehicles, other NASA missions, possible partners in other agencies (the Air Force or the National Oceanic and Atmospheric Administration for instance), mission cost elements and trades, and impacts to the program budget and phasing of the program. Says Linda, "The goal here is to spend less money on access to space and more on the technologies."
When not figuring out all those "hows" for the NMP, Linda relaxes at home in her garden where she enjoys cultivating roses, fruit trees, tomatoes, and lettuce, along with various experimental plants such as artichokes and Ukranian garlic. Up until last year (before his unfortunate death at the old age of 17), her special companion, other than her husband, used to work along side——her cat, JR. No ordinary feline, JR acted more like a dog. "Sometimes I could get him to 'heel' and walk around the yard with me——for a little while, anyway!" laughs Linda.
Besides gardening, she also enjoys hiking in the mountains near her home and traveling with her husband, Ken. Together, they often explore art galleries on their jaunts, searching out her favorite artists, Kandinsky and the Impressionists. In fact, if she could lead a parallel life, Linda would spend it making art with her paints and canvas or with a needle and thread, quilting.
A Rennaisance woman, Linda enjoys a full spectrum of interests and tries to do her best with each endeavor. She has already found her soul mate (Ken), the biggest achievement in her personal life. And, in her career, the work on Hubble and Cassini——with their outstanding results——have brought, to date, the most satisfaction. Seeing the first exploration outside our solar system within her lifetime would be "the frosting on the cake."