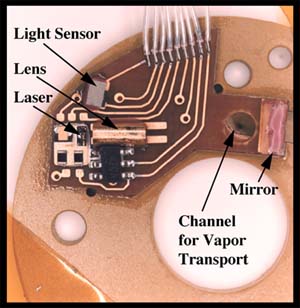 Water Detection Assembly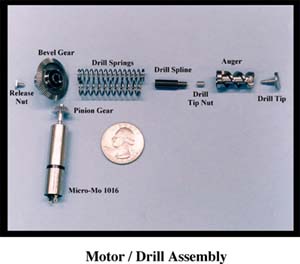 Motor and Drill Assembly for Capturing a Soil Sample
Description
Subsurface sample collected after impact - Micromotor drives microdrill out of probe forebody after impact. Tailings from the drill (<100 milligrams or 1/250th of an ounce) fall into a chamber which is then sealed.
Water ice detection - The sample chamber is heated, turning any water ice in the soil into water vapor. A small tunable diode laser emits a beam of light through the vapor to a detector. If water vapor is present, it will absorb some of the light.
Very low power: 1.5 watts peak power during operation
Very small and lightweight: The sample collection system is about 11 cubic centimeters (1 cubic inch) and weighs less than 50 grams (1.6 ounce). The instrument electronics are about 4.8 cubic centimeters (1/3 cubic inch) and weights less than 10 grams (1/3 ounce). The tunable diode laser assembly is about 0.3 cubic centimeters (1/50th cubic inch) and weighs less than 1 gram (1/30th ounce).
Capable of surviving high shock (<30,000 Gs) and low temperatures (> -120 °C or -184 °F).
Instrument electronics built using chip-on-board packaging.
Why is it exciting?
Demonstrates penetrator-based subsurface geochemistry capability
Extendable to quantitative analysis of water and other volatiles
Addresses high science priorities for Mars
Who needs it?
Mars program and other planetary missions
Subsurface evolved gas and atmospheric analysis experiments, including organics
Developers/Suppliers
[ Home | News | Mission | Technology | Science | Kid's | Pictures | Facts | Sitemap ]
---
This page last updated: October 29, 1999
For comments and suggestions, or to request
additional information please contact:

Deep Space 2 Outreach and Education
Jet Propulsion Laboratory
4800 Oak Grove Avenue
M/S 301-235
Pasadena, CA 91109