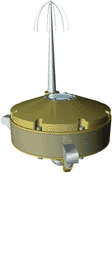 To help reduce mass and volume, and to survive the hard impact conditions, the probes contain very few wires. Instead, system electrical cabling is implemented using a flexible interconnect system. This flexible interconnect material is also used for the tether which connects the fore and aftbodies.
---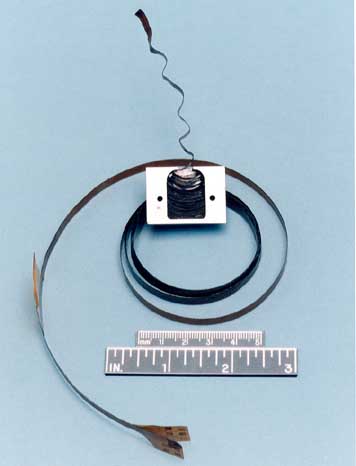 Flexible Interconnect Used for System Cabling Between the Probe's Forebody and Aftbody(also known as the Umbilical)
Description
A Pyralux based multilayer circuit carrier and interconnect technology
Used for inter-subsystem cabling and for the umbilical attaching the probe's forebody and aftbody
Resistance to high shock and vibration loading
Why is it exciting?
High interconnect reliability for 2-D and 3D packaging
>10x reduction in mass and volume
Packaging volume and shape flexibility
Highly resistent to oxygen
Who needs it?
High density instruments & sensors
Micro assemblies
Small rovers, landers, penetrators
Developers/Suppliers
Lockheed Martin Astronautics
Flex System Design, Development and Test

Electrofilm Manufacturing Company
Umbilical and Subsystem Interconnect Fabrication

Pioneer Circuits, Inc.
Advanced Microcontroller Motherboard Fabrication
[ Home | News | Mission | Technology | Science | Kid's | Pictures | Facts | Sitemap ]
---
This page last updated: October 29, 1999
For comments and suggestions, or to request
additional information please contact:

Deep Space 2 Outreach and Education
Jet Propulsion Laboratory
4800 Oak Grove Avenue
M/S 301-235
Pasadena, CA 91109