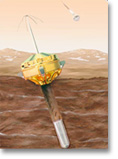 After Earth, Mars is the planet with the most hospitable climate in the solar system. So hospitable that it may once have harbored primitive, bacteria-like life. Outflow channels and other geologic features provide ample evidence that billions of years ago liquid water flowed on the surface of Mars. Although liquid water may still exist deep below the surface of Mars, currently the temperature is too low and the atmosphere too thin for liquid water to exist at the surface.


What caused the change in Mars' climate? Were the conditions necessary for life to originate ever present on Mars? Could there be bacteria in the subsurface alive today? These are the questions that lead us to explore Mars. The climate of Mars has obviously cooled dramatically. By studying the reasons for climate change on Mars, which lacks the complications of oceans, a biosphere, and industrial contaminants, we may begin to understand the forces driving climate change on Earth. As we begin to explore the universe and search for planets in other solar systems, we must first ask the question 'Did life occur on another planet in our own solar system?' and 'What are the minimal conditions necessary for the formation of life?'

Deep Space 2 will provide an opportunity to collect data which may help answer some of these questions. The probes will collect data to determine the atmospheric density profile, the hardness and thermal conductivity of the soil, and if water ice is present below the Martian surface.
---
Other Mars Websites