---
The term "supermoon" has been popping up a lot in the news and on social media over the past few years. But what are supermoons, why do they occur and how can they be used as an educational tool. Plus, are they really that super?
There's a good chance you'll hear even more about supermoons in the coming months. The full moon on December 3 marks the first and only supermoon of 2017, but it will be followed by two more in January and February 2018. Three supermoons in a row! Now is a great time to learn about these celestial events and get students exploring more about Earth's only natural satellite.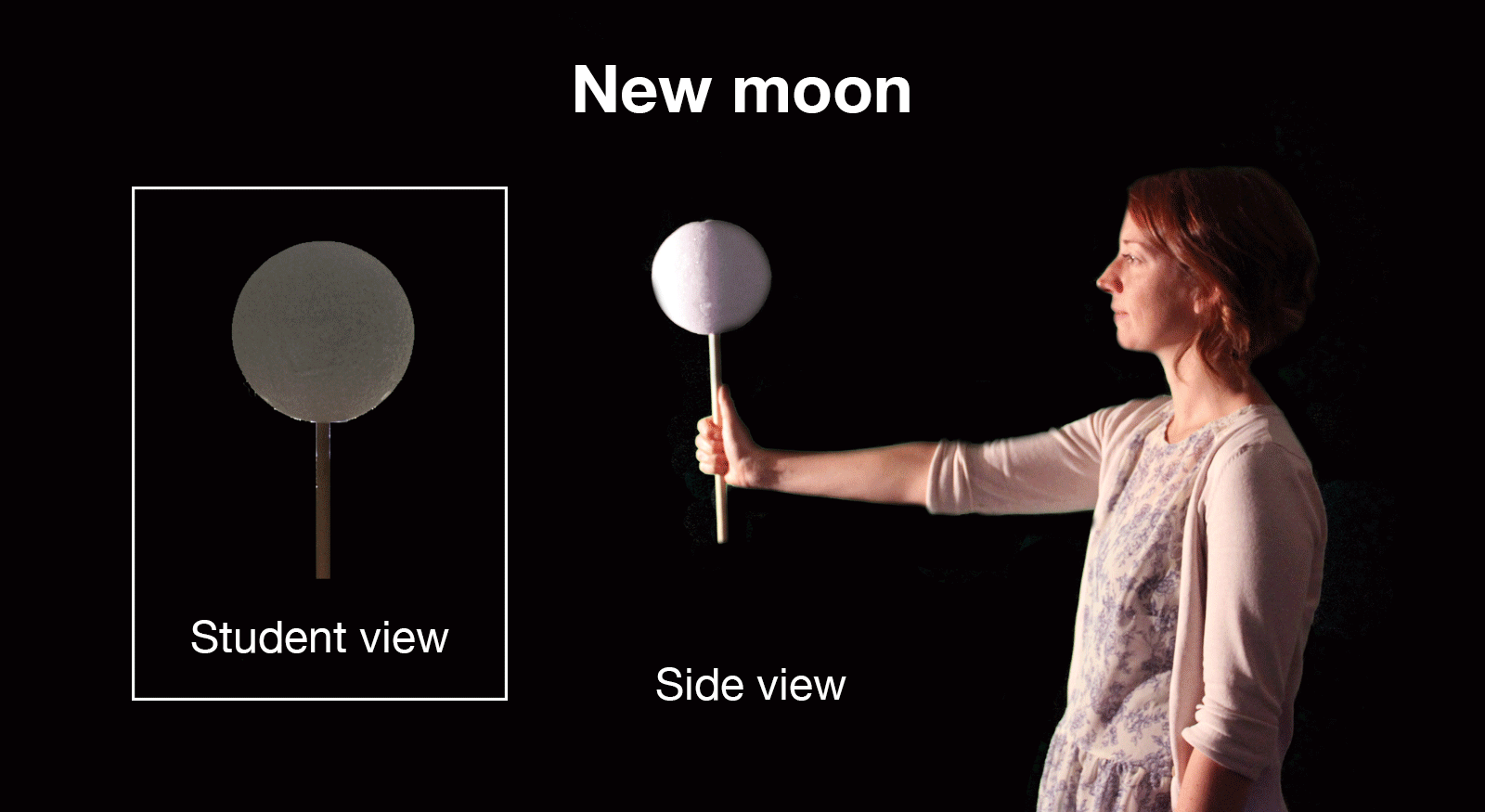 Lessons About the Moon
Explore our collection of standards-aligned lessons for grades 1-12.
How it Works
As the Moon orbits Earth, it goes through phases, which are determined by its position relative to Earth and the Sun. When the Moon lines up on the opposite side of Earth from the Sun, we see a full moon. The new moon phase occurs when the Moon and the Sun are lined up on the same side of Earth.
The Moon doesn't orbit in a perfect circle. Instead, it travels in an ellipse that brings the Moon closer to and farther from Earth in its orbit. The farthest point in this ellipse is called the apogee and is about 405,500 kilometers from Earth on average. Its closest point is the perigee, which is an average distance of about 363,300 kilometers from Earth. During every 27-day orbit around Earth, the Moon reaches both its apogee and perigee.
Full moons can occur at any point along the Moon's elliptical path, but when a full moon occurs at or near the perigee, it looks slightly larger and brighter than a typical full moon. That's what the term "supermoon" refers to.
Because supermoon is not an official astronomical term, there is no definition about just how close to perigee the full moon has to be in order to be called "super." Generally, supermoon is used to refer to a full moon 90 percent or closer to perigee. (When the term supermoon was originally coined, it was also used to describe a new moon in the same position, but since the new moon isn't easily visible from Earth, it's rarely used in that context anymore.)
A more accurate and scientific term is "perigee syzygy." Syzygy is the alignment of three celestial bodies, in this case the Sun, Moon and Earth. But that doesn't quite roll off the tongue as easily as supermoon.
Why It's Important
As the largest and brightest object in the night sky, the Moon is a popular focal point for many amateur and professional astronomers pointing their telescopes to the sky, and the source of inspiration for everyone from aspiring space scientists to engineers to artists.
The supermoon is a great opportunity for teachers to connect concepts being taught in the classroom to something students will undoubtedly be hearing about. Students can practice writing skills in a Moon journal, study Moon phases and apply their math skills to observing the supermoon. (Click here for related activities from JPL's Education Office.)
Incorrect and misleading information about the Moon (and supermoons) can lead to confusion and frustration. It's important to help students understand what to expect and be able to identify inaccurate info.
What to Expect
Size
As with anything that moves closer to the person viewing it, the supermoon will appear bigger than an average full Moon. At its largest, it can appear 14% larger in diameter than the smallest full moon. Keep in mind that a 14% increase in the apparent size of something that can be covered with a fingernail on an outstretched arm won't seem significantly bigger. Unlike side-by-side comparisons made in science and everyday life, students will not have seen the full moon for at least 30 days, and won't see another for at least 30 more days. Comparing a supermoon with a typical full moon from memory is very difficult.
Leading up to a supermoon, there are often misleading images on popular media. A technique that involves using a long telephoto lens to take photographs of the Moon next to buildings or other objects makes the Moon look huge compared with its surroundings. This effect can make for great photographs, but it has nothing to do with the supermoon. In fact, these photos can be taken during any Moon phase, but they will likely be used in stories promoting the supermoon.
There are also images that have been edited to inaccurately dramatize the size of the supermoon. Both of these can lead students, and adults, taking pictures with their cell phone to think that they've done something wrong or just aren't cut out for observing the sky, which isn't true!
Your students may have noticed that when they see a full moon low on the horizon, it appears huge and then seems to shrink as it rises into the night sky. This can happen during any full moon. Known as the Moon Illusion, it has nothing to do with a supermoon. In fact, scientists still aren't sure what causes the Moon Illusion.
Brightness
The full moon is bright and the supermoon is even brighter! Sunlight reflecting off the Moon during its full phase is bright enough to cast shadows on the ground. During a supermoon, that brightness can increase up to 30 percent as a result of the Moon being closer to Earth, a phenomenon explained by the inverse square law. (Introduce students to the inverse square law with this space-related math lesson for 6th- through 8th-graders.) As with the size of the Moon, students may not remember just how bright the last full moon was or easily be able to compare it. Powerful city lights can also diminish how bright a supermoon seems. Viewing it away from bright overhead street lights or outside the city can help viewers appreciate the increase in brightness.
What Not to Expect
A supermoon will not cause extreme flooding, earthquakes, fires, volcanic eruptions, severe weather, nor tsunamis, despite what incorrect and non-scientific speculators might suggest. Encourage your students to be good scientists and research this for themselves.
Teach It
The excitement and buzz surrounding a supermoon is a great opportunity to teach a variety of Moon topics with these lessons from JPL's Education Office:
TAGS: Supermoon, Moon Phases, Moon, Earth's Moon, What's Up, Astronomy, K-12, Educators
---
When Halloween rolls around at NASA's Jet Propulsion Laboratory, we really let our nerd flags fly. Pumpkin carving contests turn into serious engineering design challenges and costume inspiration runs the gamut from real science to science fiction.
This year, join us in all our geekdom with these spooky (and educational!) space activities from the Education Office at NASA/JPL:
---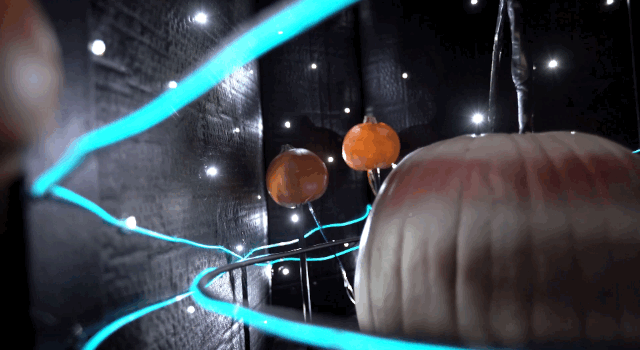 ---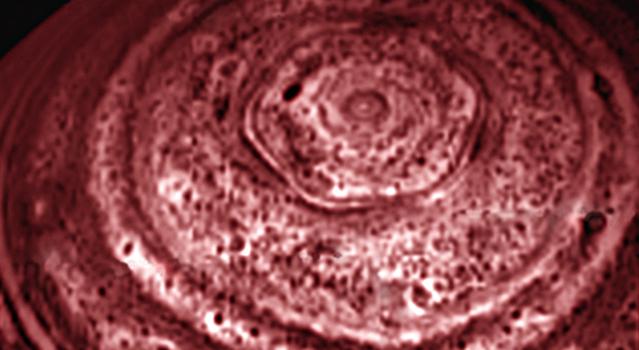 ---
---
Update – Oct. 3, 2017: Researchers Kip Thorne and Barry Barish of Caltech and Rainer Weiss of MIT have been awarded the 2017 Nobel Prize in Physics for their "decisive contributions to the LIGO detector and the observation of gravitational waves."
Thorne, Barish and Weiss played key roles in making the LIGO project a reality through their research, leadership and development of technology to detect gravitational waves.
In a statement to Caltech, Thorne said the prize also belongs to the more than 1,000 scientists and engineers around the world who play a part on LIGO, the result of a long-term partnership between Caltech, MIT and the National Science Foundation.
› Read the Caltech press release
This story was originally published on March 23, 2016.
---
In the News

A century ago, Albert Einstein theorized that when objects move through space they create waves in spacetime around them. These gravitational waves move outward, like ripples from a stone moving across the surface of a pond. Little did he know that 1.3 billion years earlier, two massive black holes collided. The collision released massive amounts of energy in a fraction of a second (about 50 times as much as all of the energy in the visible universe) and sent gravitational waves in all directions. On September 14, 2015 those waves reached Earth and were detected by researchers at the Laser Interferometer Gravitational-Wave Observatory (LIGO).
Why It's Important
Einstein published the Theory of General Relativity in 1915. In it, he predicted the existence of gravitational waves, which had never been directly detected until now. In 1974, physicists discovered that two neutron stars orbiting each other were getting closer in a way that matched Einstein's predictions. But it wasn't until 2015, when LIGO's instruments were upgraded and became more sensitive, that they were able to detect the presence of actual gravitational waves, confirming the last important piece of Einstein's theory.
It's also important because gravitational waves carry information about their inception and about the fundamental properties of gravity that can't be seen through observations of the electromagnetic spectrum. Thanks to LIGO's discovery, a new field of science has been born: gravitational wave astronomy.
How They Did It
LIGO consists of facilities in Washington and Louisiana. Each observatory uses a laser beam that is split and sent down 2.5-mile (4-kilometer) long tubes. The laser beams precisely indicate the distance between mirrors placed at the ends of each tube. When a gravitational wave passes by, the mirrors move a tiny amount, which changes the distance between them. LIGO is so sensitive that it can detect a change smaller than 1/10,000 the width of a proton (10-19 meter). Having two observatories placed a great distance apart allows researchers to approximate the direction the waves are coming from and confirm that the signal is coming from space rather than something nearby (such as a heavy truck or an earthquake).
Teach It

Creating a model that demonstrates gravitational waves traveling through spacetime is as simple as making a gelatin universe!
Middle school students can develop a model that shows gravitational waves traveling through spacetime while working toward the following Next Generation Science Standard:
MS-PS4-2

- Develop and use a model to describe that waves are reflected, absorbed, or transmitted through various materials.
Explore More
TAGS: Gravitational Waves, Teachable Moment, LIGO, Black Holes, Einstein
---
Update – Sept. 11, 2017: This feature (originally published on April 25, 2017) has been updated to reflect Cassini's current mission status, as well as new lessons and activities.
---
In the News
After almost 20 years in space, NASA's Cassini spacecraft has begun the final chapter of its remarkable story of exploration. This last phase of the mission has delivered unprecedented views of Saturn and taken Cassini where no spacecraft has been before – all the way between the planet and its rings. On Friday, Sept. 15 Cassini will perform its Grand Finale: a farewell dive into Saturn's atmosphere to protect the environments of Saturn's moons, including the potentially habitable Enceladus.
Lessons All About Saturn
Explore our collection of standards-aligned lessons about NASA's Cassini mission.
How It Works
On April 22, Cassini flew within 608 miles (979 km) of Saturn's giant moon Titan, using the moon's gravity to place the spacecraft on its path for the ring-gap orbits. Without this gravity assist from Titan, the daring, science-rich mission ending would not be possible.
Cassini is almost out of the propellant that fuels its main engine, which is used to make large course adjustments. A course adjustment requires energy. Because the spacecraft does not have enough rocket fuel on board, Cassini engineers have used an external energy source to set the spacecraft on its new trajectory: the gravity of Saturn's moon Titan. (The engineers have often used Titan to make major shifts in Cassini's flight plan.)
Titan is a massive moon and thus has a significant amount of gravity. As Cassini comes near Titan, the spacecraft is affected by this gravity – and can use it to its advantage. Often referred to as a "slingshot maneuver," a gravity assist is a powerful tool, which uses the gravity of another body to speed up, slow down or otherwise alter the orbital path of a spacecraft.
When Cassini passed close by Titan on April 22, the moon's gravity pulled strongly on the spacecraft. The flyby gave Cassini a change in velocity of about 1,800 mph (800 meters per second) that sent the spacecraft into its first of the ring-gap orbits on April 23. On April 26, Cassini made its first of 22 daring plunges between the planet and its mighty rings.
As Kepler's third law indicates, Cassini traveled faster than ever before during these final smaller orbits. Cassini's orbit continued to cross the orbit of Titan during these ring-gap orbits. And every couple of orbits, Titan passed near enough to give the spacecraft a nudge. One last nudge occured on September 11, placing the spacecraft on its final, half-orbit, impact trajectory toward Saturn.
Because a few hardy microbes from Earth might have survived onboard Cassini all these years, NASA has chosen to safely dispose of the spacecraft in the atmosphere of Saturn to avoid the possibility of Cassini someday colliding with and contaminating moons such as Enceladus and Titan that may hold the potential for life. Cassini will continue to send back science measurements as long as it is able to transmit during its final dive into Saturn.
Why It's Important
Flying closer than ever before to Saturn and its rings has provided an unprecedented opportunity for science. During these orbits, Cassini's cameras have captured ultra-close images of the planet's clouds and the mysterious north polar hexagon, helping us to learn more about Saturn's atmosphere and turbulent storms.
The cameras have been taking high-resolution images of the rings, and to improve our knowledge of how much material is in the rings, Cassini has also been conducting gravitational measurements. Cassini's particle detectors have sampled icy ring particles being funneled into the atmosphere by Saturn's magnetic field. Data and images from these observations are helping bring us closer to understanding the origins of Saturn's massive ring system.
Cassini has also been making detailed maps of Saturn's gravity and magnetic fields to reveal how the planet is structured internally, which could help solve the great mystery of just how fast Saturn is rotating.
On its first pass through the unexplored 1,500-mile-wide (2,400-kilometer) space between the rings and the planet, Cassini was oriented so that its high-gain antenna faced forward, shielding the delicate scientific instruments from potential impacts by ring particles. After this first ring crossing informed scientists about the low number of particles at that particular point in the gap, the spacecraft was oriented differently for the next four orbits, providing the science instruments unique observing angles. For ring crossings 6, 7 and 12, the spacecraft was again oriented so that its high-gain antenna faced forward.
Fittingly, Cassini's final moments will be spent doing what it does best, returning data on never-before-observed regions of the Saturnian system. On September 15, just hours before Cassini enters Saturn's atmosphere for its Grand Finale dive, it will collect and transmit its final images back to Earth. During its fateful dive, Cassini will be sending home new data in real time informing us about Saturn's atmospheric composition. It's our last chance to gather intimate data about Saturn and its rings – until another spacecraft journeys to this distant planet.
Explore the many discoveries made by Cassini and the story of the mission on the Cassini website.
Teach It
Use these standards-aligned lessons to get your students excited about the science we have learned and have yet to learn about the Saturnian system.
Explore More
TAGS: Saturn, Titan, Cassini, Grand Finale, Teachable Moments, Kepler's Laws, K-12, Lessons,
---
Update – Sept. 20, 2017: Due to the number of requests we have received, this bulletin board registration is now closed. In the event more materials become available, an update will be posted here. All materials are also available to download at the links below.
---
This year has been full of exciting discoveries at NASA as we learn more about our solar system as well as star systems light years away.
Want a cool way to share these missions and discoveries with your classroom? Sign up online to receive the latest classroom bulletin board set from the Educator Resource Center at NASA's Jet Propulsion Laboratory.
Note:
Bulletin board mailers are limited to teachers at U.S.-based institutions.
Available while supplies last.
Requests will be fulfilled in the order they are received.
Here's what's included:
---
---
---
---
Visit our educator resources page for more downloads and online resources.
---
In the News
This year marks the 40th anniversary of the launch of the world's farthest and longest-lived spacecraft, NASA's Voyager 1 and 2. Four decades ago, they embarked on an ambitious mission to explore the giant outer planets, the two outermost of which had never been visited. And since completing their flybys of Jupiter, Saturn, Uranus and Neptune in 1989, they have been journeying toward the farthest reaches of our solar system – where no spacecraft has been before. These two intrepid spacecraft continue to return data to NASA daily, offering a window into the mysterious outer realms of our solar system and beyond.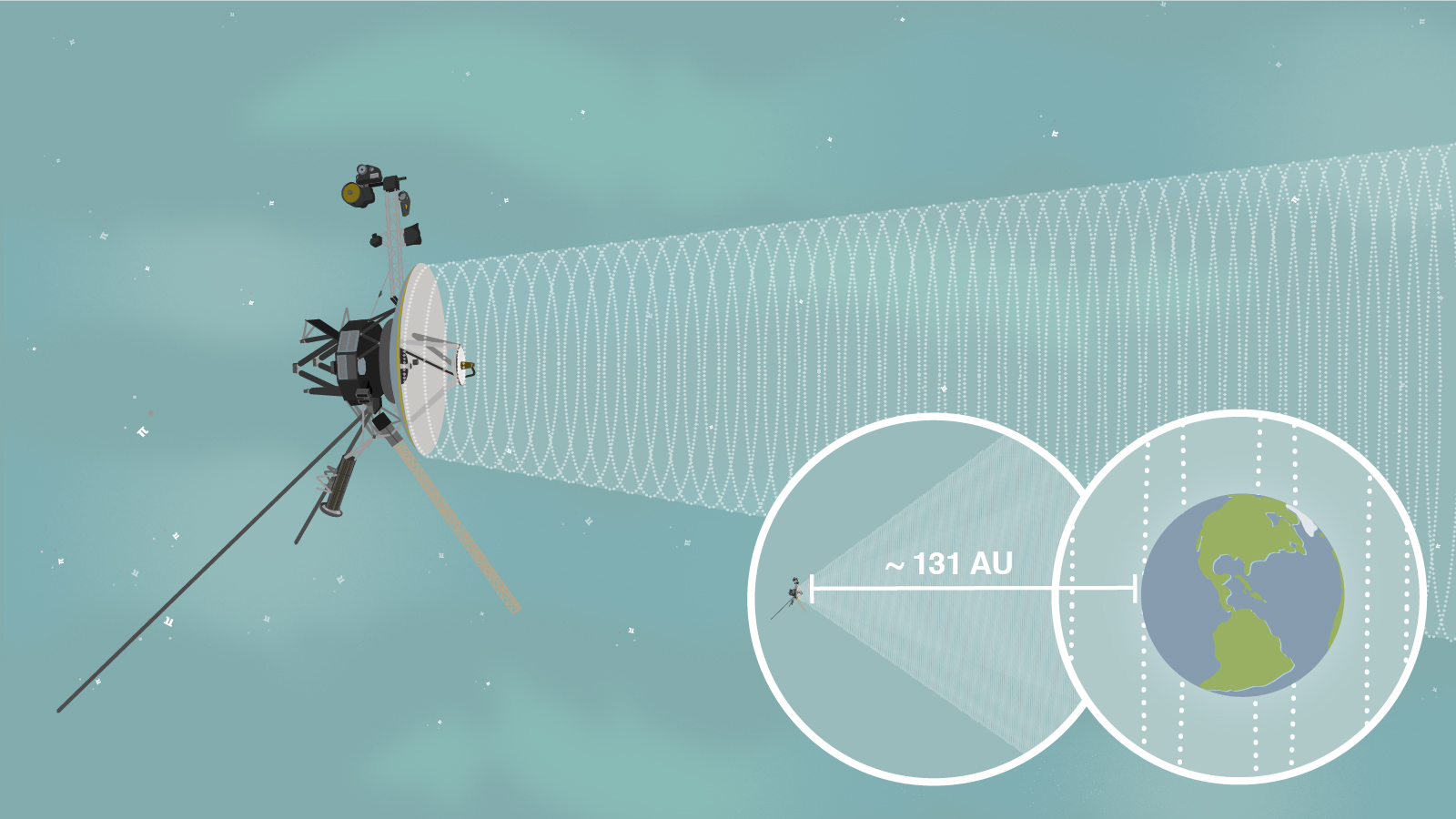 How They Did It
The Voyager spacecraft were launched during a very short window that took advantage of a unique alignment of the four giant outer planets – one that would not occur again for another 176 years. (Try this lesson in calculating launch windows to get an idea of how it was done.) Launching at this point in time enabled the spacecraft to fly by all four planets in a single journey, returning never-before-seen, close-up images and scientific data from Jupiter, Saturn, Uranus and Neptune that greatly contributed to our current understanding of these planets and the solar system.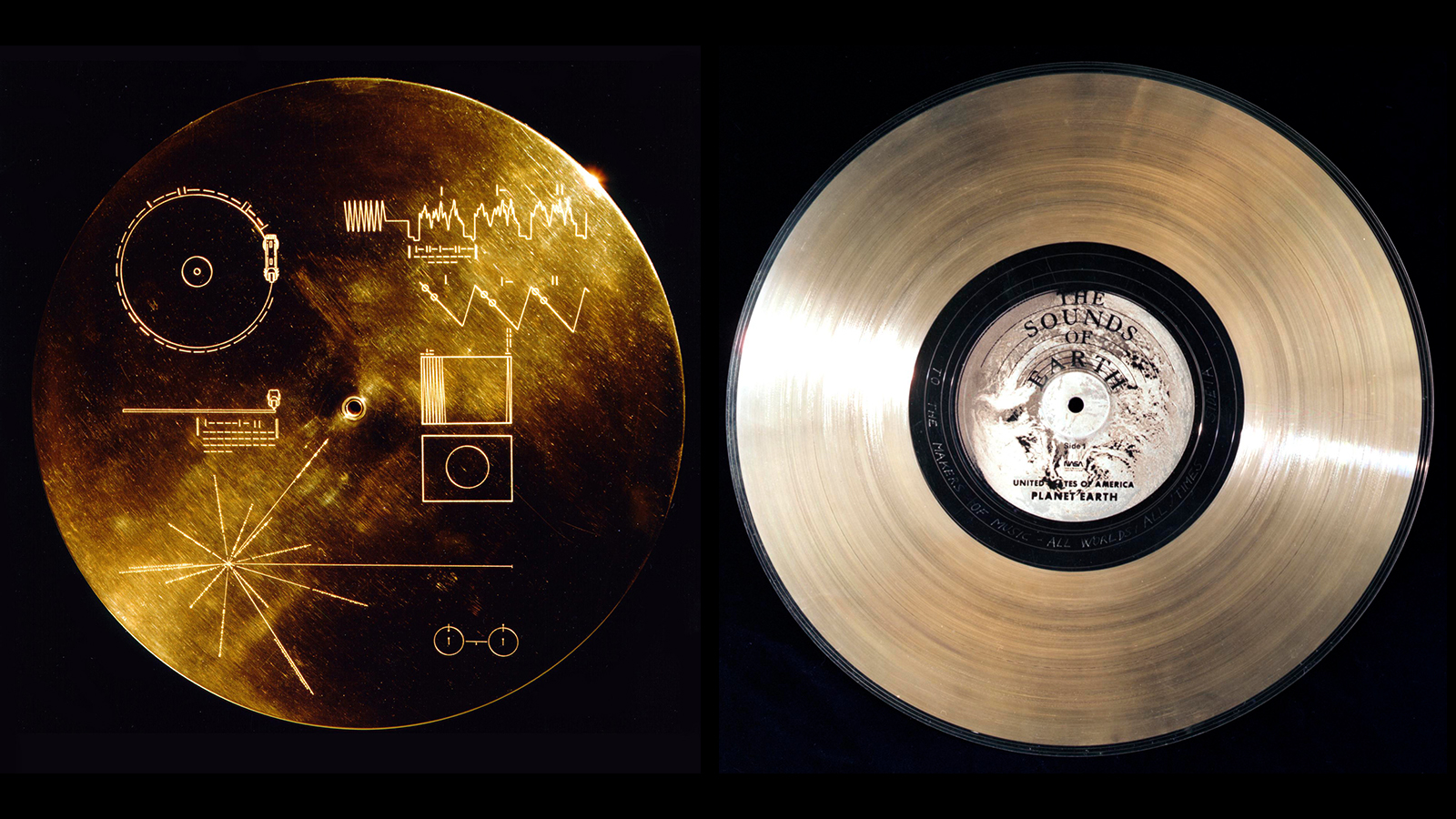 Mission planners knew Voyager would be a historic mission to parts of the solar system never visited by a human-made object. To commemorate the journey, NASA endowed each spacecraft with a time capsule of sorts called the Golden Record intended to communicate the story of our world to extraterrestrials. Both Voyagers carry the 12-inch, gold-plated copper phonograph record containing sounds and images selected to portray the diversity of life and culture on Earth. Find out more about the Golden Record on the
Voyager website
. Credit: NASA/JPL-Caltech
Why It's Important
These images of Jupiter, Saturn, Uranus and Neptune (clockwise from top) were taken by Voyager 1 and 2 as the spacecraft journeyed through the solar system. See a gallery of images that Voyager took on the Voyager website. Credit: NASA/JPL-Caltech
In addition to shaping our understanding of the outer planets, the Voyager spacecraft are helping us learn more about the space beyond the planets – the outer region of our solar system. After completing their "grand tour" of the outer planets, the Voyagers continued on an extended mission to the outer solar system. They are now more than 10 billion miles from Earth, exploring the boundary region between our planetary system and what's called interstellar space.
The beginning of interstellar space is where the constant flow of material from the Sun and its magnetic field stop influencing the surroundings. Most of the Sun's influence is contained within the heliosphere, a bubble created by the Sun and limited by forces in interstellar space. (Note that the heliosphere doesn't actually look like a sphere when it travels through space; it's more of a blunt sphere with a tail.) The outer edge of the heliosphere, before interstellar space, is a boundary region called the heliopause. The heliopause is the outermost boundary of the solar wind, a stream of electrically charged atoms, composed primarily of ionized hydrogen, that stream outward from the Sun. Our planetary system lies inside the bubble of the heliosphere, bordered by the heliopause and surrounded by interstellar space.
Any flat-bottom sink can provide a visual analogy of these solar system components. In this video, the water traveling radially away from where the faucet stream impacts the sink represents the solar wind. The termination shock is the point at which the speed of the solar wind (water) drops abruptly as it begins to be influenced by interstellar wind. The outer edge of the thick ring of water at the bottom of the sink represents the heliopause. Just like the water in the sink, the solar wind at the heliopause changes direction and flows back into the heliosphere. Credit: NASA/JPL-Caltech.
Though we've learned a lot about the heliopause thanks to the Voyager spacecraft, its thickness and variation are still key unanswered questions in space physics. As the Voyagers continue their journey, scientists hope to learn more about the location and properties of the heliopause.
From their unique vantage points – Voyager 1 in the northern hemisphere and Voyager 2 in the southern hemisphere – the spacecraft have already detected differences and asymmetries in the solar wind termination shock, where the wind abruptly slows as it approaches the heliopause. For example, Voyager 2 crossed the termination shock at a distance of about 83.7 AU in the southern hemisphere. (One AU, or astronomical unit, is equal to 150 kilometers (93 million miles), the distance between Earth and the Sun.) That's about 10 AU closer to the Sun than where Voyager 1 crossed the shock in the north. As shown in this diagram, Voyager 1 traveled through the compressed "nose" of the termination shock and Voyager 2 is expected to travel through the flank of the termination shock.
With four remaining powered instruments on Voyager 1 and five remaining powered instruments on Voyager 2, the two spacecraft continue to collect science data comparing their two distinct locations at the far reaches of the solar system.
In August 2012, Voyager 1 detected a dramatic increase in galactic cosmic rays (as shown in this animated chart). The increase, which has continued to the current peak, was associated with the spacecraft's crossing into interstellar space. Credit: NASA/JPL-Caltech
Since it launched from Earth in 1977, Voyager 1 has been using an instrument to measure high-energy, dangerous particles traveling through space called galactic cosmic rays. While studying the interaction between the bubble of the heliosphere and interstellar space, Voyager 1 revealed that the heliosphere is functioning as a radiation shield, protecting our planetary system from most of these galactic cosmic rays. So in August 2012, when Voyager 1 detected a dramatic increase in the rays, which has continued to the current peak, it was associated with the spacecraft's crossing into interstellar space.
Meanwhile, Voyager 2 ­­– which is still in the heliosheath, the outermost layer of the heliosphere between the shock and the heliopause ­– is using its solar wind instrument to measure the directional change of solar wind particles there. Within the next few years, Voyager 2 is also expected to cross into interstellar space, providing us with even more detailed data about this mysterious region.
In another 10 years, we expect one or both Voyagers to cruise outward into a more pristine region of interstellar space, returning data to inform our hypotheses about the concentration of galactic particles and the characteristics of interstellar wind.
Even with 40 years of space flight behind them, the Voyagers are expected to continue returning valuable data until about 2025. Communications will be maintained until the spacecraft's nuclear power sources can no longer supply enough electrical energy to power critical functions. Until then, there's still much to learn about the boundary of our heliosphere and what lies beyond in the space between the stars.
Teach It
Use these standards-aligned lessons and related activities to get students doing math and science with a real-world (and space!) connection.
Hear Here - Students use the mathematical constant pi and information about the current location of Voyager 1 to learn about the faint data-filled signal being returned to Earth.
Solar System Bead Activity – Students calculate and construct a scale model of solar system distances using beads and string.
Catching a Whisper from Space – Students kinesthetically model the mathematics of how NASA communicates with spacecraft.
Explore More
TAGS: Voyager, Farthest, Golden Record, STEM, Teachable Moments, Science, Engineering, Solar System, Interstellar Space, Heliopause, Heliosphere, Heliosheath, Termination Shock, Stars, Heliophysics
---
Update – Aug. 17, 2017: Two new lessons ("Measuring Solar Energy During an Eclipse" and "Modeling the Earth-Moon System") were added to the Teach It section below.
---
In the News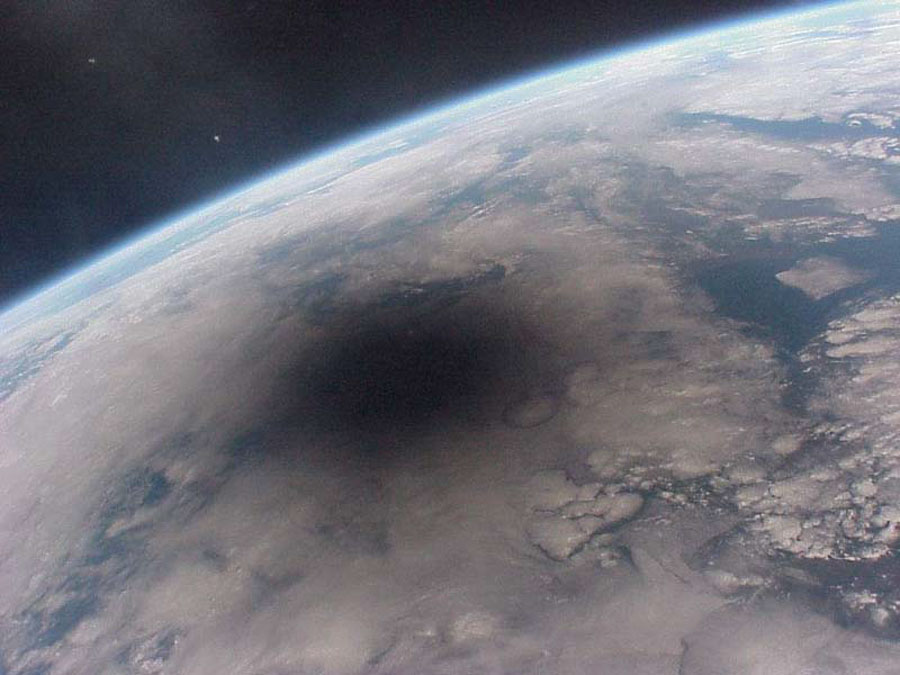 The Moon casts a shadow on Earth during a total solar eclipse over Europe in this image taken by a French astronaut on the Mir Space Station. Credit: CNES
This month marks the first time in 38 years that one of nature's most awe-inspiring sights, a total solar eclipse, will be visible from the continental United States. And unlike the 1979 eclipse, the one on August 21 can be seen from coast to coast – something that hasn't happened since 1918.
Millions of people are expected to travel to the 14 states that are in the path of totality – where the Moon will completely cover the disk of the Sun – while hundreds of millions more in every other state of the U.S. will be able to see a partial eclipse.
Whether you live in or are traveling to the path of totality, or will be able to step outside and view the partial eclipse from the comfort of your own home or school, the eclipse provides both an inspiring reason to look to the sky and opportunities to engage in scientific observations and discovery.
Teach It
Use these standards-aligned lessons and related activities to get your students excited about the eclipse and the science that will be conducted during the eclipse.

How it Works
Eclipses occur as the result of an alignment between the Sun, the Moon and Earth. Solar eclipses can only happen during the new moon phase, when the Moon's orbit brings it between Earth and the Sun. At this time, the shadow cast by the moon could land on Earth, resulting in an eclipse. But most of the time, because the moon's orbit is slightly titled, the moon's shadow falls above or below Earth.
The time period when the Moon, Earth and the Sun are lined up and on the same plane is called an eclipse season. Eclipse seasons last about 34 days and occur just shy of every six months. A new moon during an eclipse season will cause the Moon's shadow to fall on Earth, creating a solar eclipse.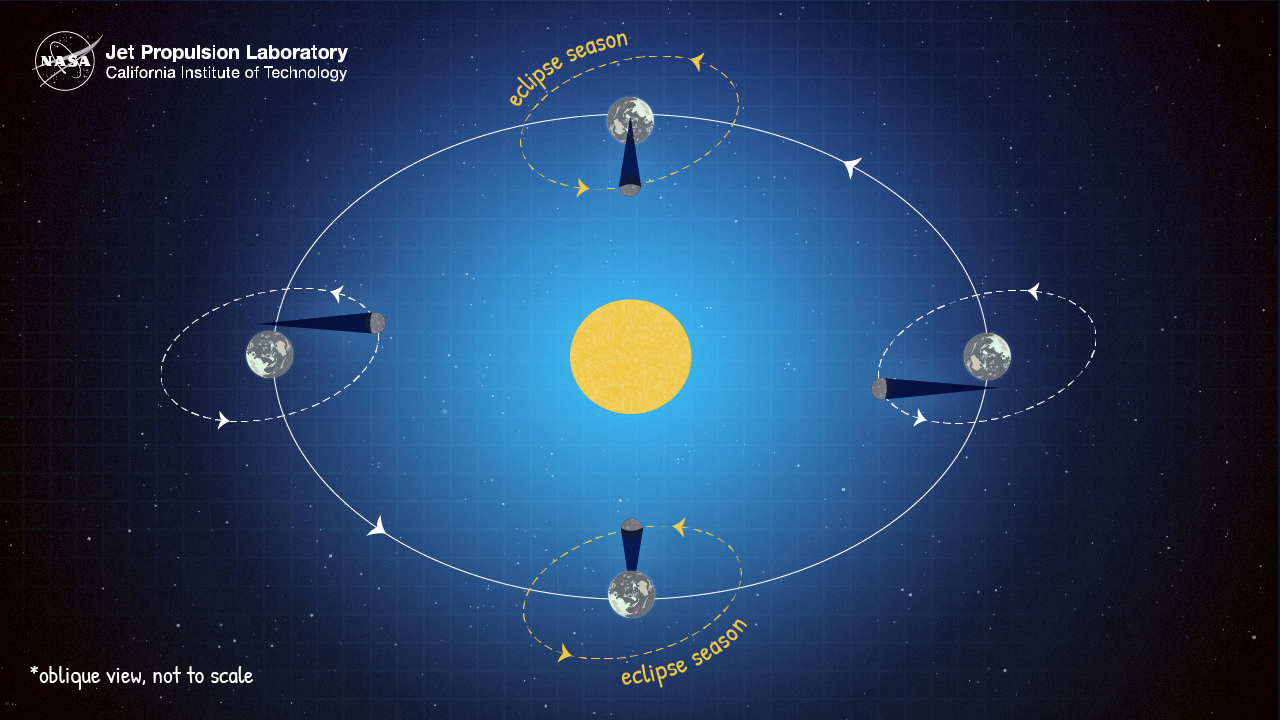 An eclipse season is the time period when the Moon, Earth and the Sun are lined up on the same plane. A new moon during an eclipse season will cause the Moon's shadow to fall on Earth, creating a solar eclipse. Image credit: NASA/JPL-Caltech
In addition to the proper alignment required for an eclipse, the distance between Earth, the Moon and the Sun also plays an important role. Even though the Moon is much smaller than the Sun (about 400 times smaller in diameter), the Sun and Moon appear about the same size from Earth because the Sun is about 400 times farther away than the Moon. If the Moon were farther from Earth, it would appear smaller and not cover the disk of the Sun. Similarly, if the Sun were closer to Earth, it would appear larger and the Moon would not completely cover it.
Why It's Important
Total solar eclipses provide a unique opportunity for scientists to study the Sun and Earth from land, air and space, and allow the public to engage in citizen science!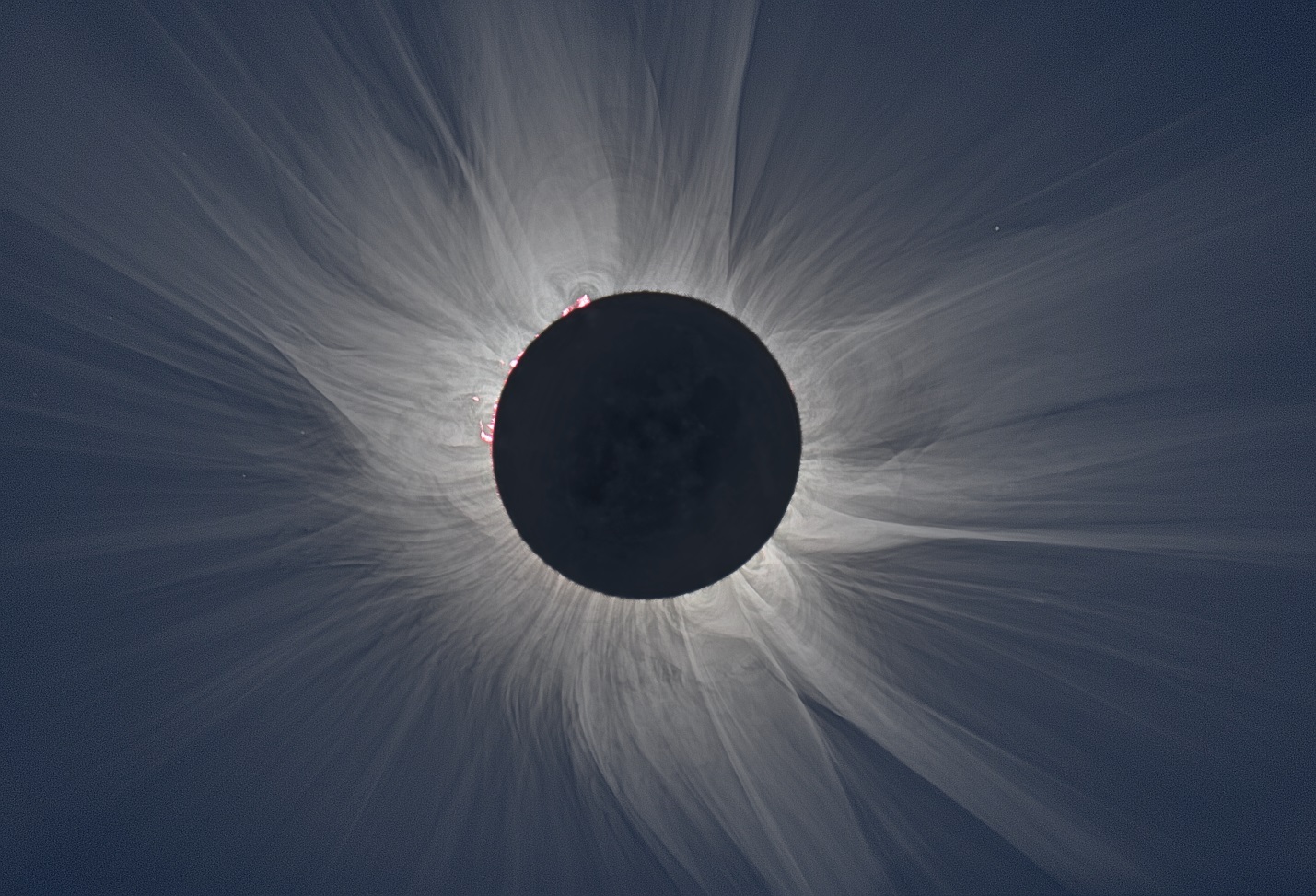 The sun's outer atmosphere (corona) and thin lower atmosphere (chromosphere) can be seen streaming out from the covered disk of the sun during a solar eclipse on March 20, 2015. Credit: S. Habbal, M. Druckmüller and P. Aniol
On a typical day, the bright surface of the Sun, called the photosphere, is the only part of the Sun we can see. During a total solar eclipse, the photosphere is completely blocked by the Moon, leaving the outer atmosphere of the Sun (corona) and the thin lower atmosphere (chromosphere) visible. Studying these regions of the Sun's atmosphere can help scientists understand solar radiation, why the corona is hotter than the photosphere, and the process by which the Sun sends a steady stream of material and radiation into space.
Scientists measure incoming solar radiation on Earth, also known as insolation, to better understand Earth's radiation budget – the energy emitted, reflected and absorbed by Earth. Just as clouds block sunlight and reduce insolation, the eclipse will block sunlight, providing a great opportunity to study how increased cloud cover can impact weather and climate. (Learn more about insolation during the 2017 eclipse here.)
Citizen scientists can get involved in collecting data and participating in the scientific process, too, through NASA's Global Learning and Observations to Benefit the Environment, or GLOBE, program. During the eclipse, citizen scientists in the path of totality and in partial eclipse areas can measure temperature and cloud cover data and report it using the GLOBE Observer app to help further the study of how eclipses affect Earth's atmosphere.
You can learn more about the many ways scientists are using the eclipse to improve their understanding of Earth, the Moon and the Sun here.
How to View It
Important! Do not look directly at the Sun or view the partial eclipse without certified eclipse glasses or a solar filter. For more information on safe eclipse viewing, visit the NASA Eclipse website.
When following proper safety guidelines, witnessing an eclipse is an unparalleled experience. Many "eclipse chasers" have been known to travel the world to see total eclipses.
The start time of the partial eclipse, when the edge of the Moon first crosses in front of the disk of the Sun, will depend on your location. You can click on your location in this interactive eclipse map to create a pin, which will show you the start and end time for the eclipse in Universal Time. (To convert from Universal Time to your local time, subtract four hours for EDT, five hours for CDT, six hours for MDT, or seven hours for PDT.) Clicking on your location pin will also show you the percent of Sun that will be eclipsed in your area if you're outside the path of totality.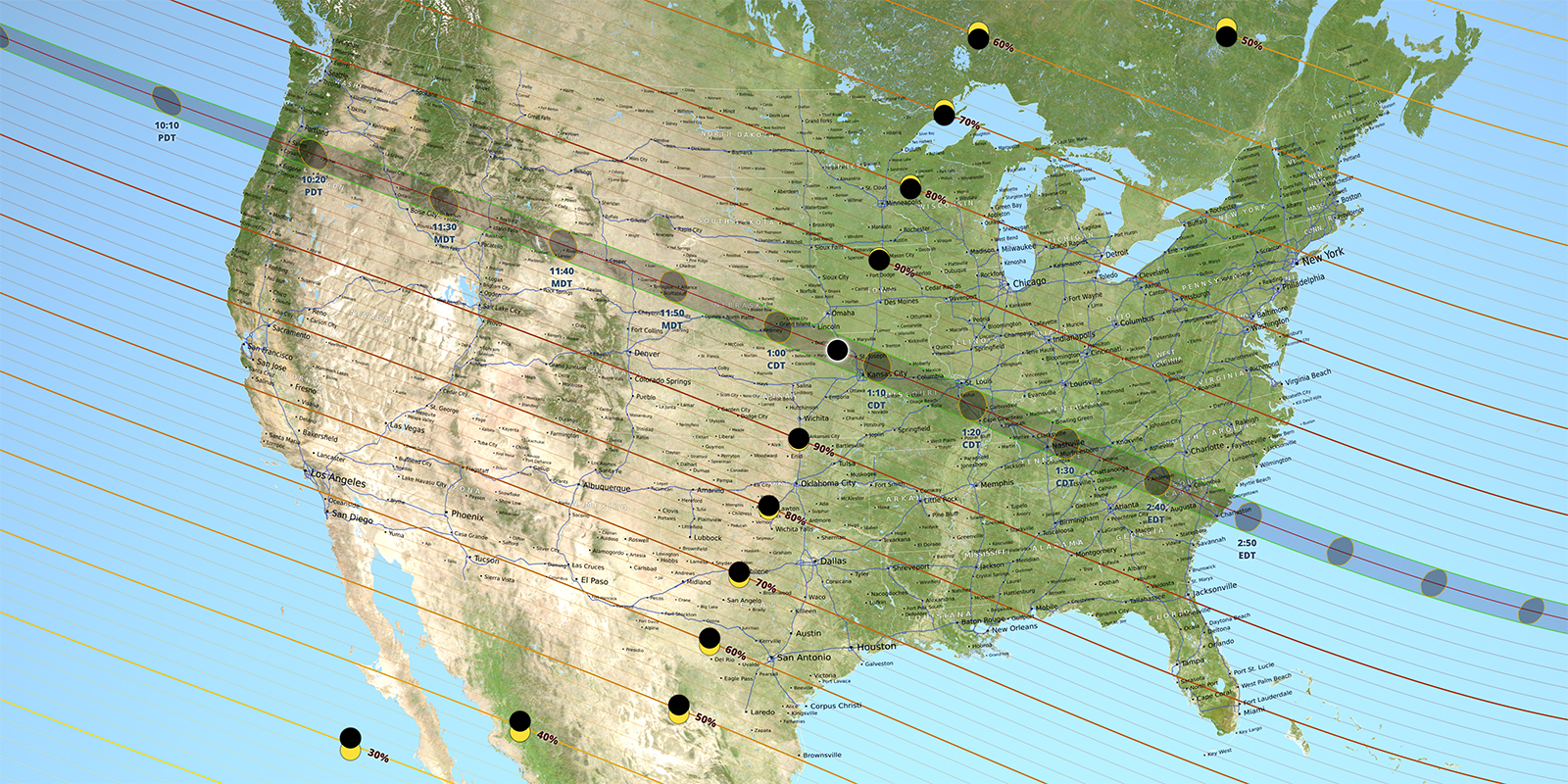 This graphic shows the path of the Moon and Sun across the US during the Aug. 21, 2017 eclipse. The gray line represents the path of totality, while the Sun and Moon graphics flowing from top to bottom represent the percent of coverage for areas outside the path of totality. Image credit: NASA
If you are inside the approximately 70-mile-wide strip known as the path of totality, where the shadow of the Moon, or umbra, will fall on Earth, the total eclipse will be visible starting about an hour to 1.5 hours after the partial eclipse begins.
Only when the eclipse is at totality – and the viewer is in the path of totality – can eclipse glasses be removed. Look at the eclipse for anywhere from a few seconds to more than 2.5 minutes to see the Sun's corona and chromosphere, as well as the darkened near side of the Moon facing Earth. As before, your viewing location during the eclipse will determine how long you can see the eclipse in totality.

Viewers should wear eclipse glasses or use a pinhole camera for the entirety of the partial eclipse. Those in the path of totality can remove their glasses only when the eclipse is in totality, which may last from a few seconds to more than 2.5 minutes depending on your location. Image credit: NASA
After totality ends, a partial eclipse will continue for an hour to 1.5 hours, ending when the edge of the Moon moves off of the disk of the Sun. Remember, wear eclipse glasses or use a pinhole camera for the entirety of the partial eclipse. Do not directly view the partial eclipse.
Make a Pinhole Camera
Find out how to make your very own pinhole camera to safely view the eclipse in action.

To get an idea of what the eclipse will look like from your location and explore the positions of the Moon, Sun and Earth throughout the eclipse, see this interactive simulation.
For more information about the start of the partial eclipse, the start and duration of totality, and the percentage of the Sun eclipsed outside the path of totality, find your location on this interactive eclipse map.
NASA Television will host a live broadcast beginning at 9 a.m. PDT on Aug. 21 showing the path of totality and featuring views from agency research aircraft, high-altitude balloons, satellites and specially-modified telescopes. Find out how and where to watch, here.
Teach It
Use these standards-aligned lessons and related activities to get your students excited about the eclipse and the science that will be conducted during the eclipse.
Explore More
TAGS: Eclipse, Solar Eclipse, Science, Pinhole Camera, K-12, Students, Educators
---
You may already know about the online lessons and activities available from the Education Office at NASA's Jet Propulsion Laboratory. (If not, check them out here.) But did you know that JPL and all NASA centers nationwide have an education specialist focused specifically on professional development for teachers – including how to use those online lessons in the classroom? It's part of a program called the Educator Professional Development Collaborative, or EPDC, a free service for any K-12 classroom educator in the country.
During the 2016-2017 school year, the EPDC at JPL participated in more than 120 school events focusing on teacher professional development, including implementing Next Generation Science Standards, helping schools initiate science fairs and community events, and assisting with student presentations. That number includes more than 5,000 teachers and students who worked with the EPDC on initiatives designed to get NASA science and engineering into the hands of future space explorers.
As the EPDC coordinator for JPL, I schedule and help shape these events for schools and teacher preparation programs in Southern California, coordinating and consulting with educators to help them bring standards-aligned NASA STEM content into the classroom. My work and the ways in which I support educators can take many shapes. Teachers often ask me to visit during regularly scheduled professional development or early dismissal days. These represent the most common events, wherein schools choose topics or themes to focus on and the time is spent practicing hands-on activities for students. This year, teachers and schools have come up with new and especially creative formats, scheduling onsite tours and workshops at JPL for their teaching staff, or even having NASA scientists dial in to their classrooms to talk with students.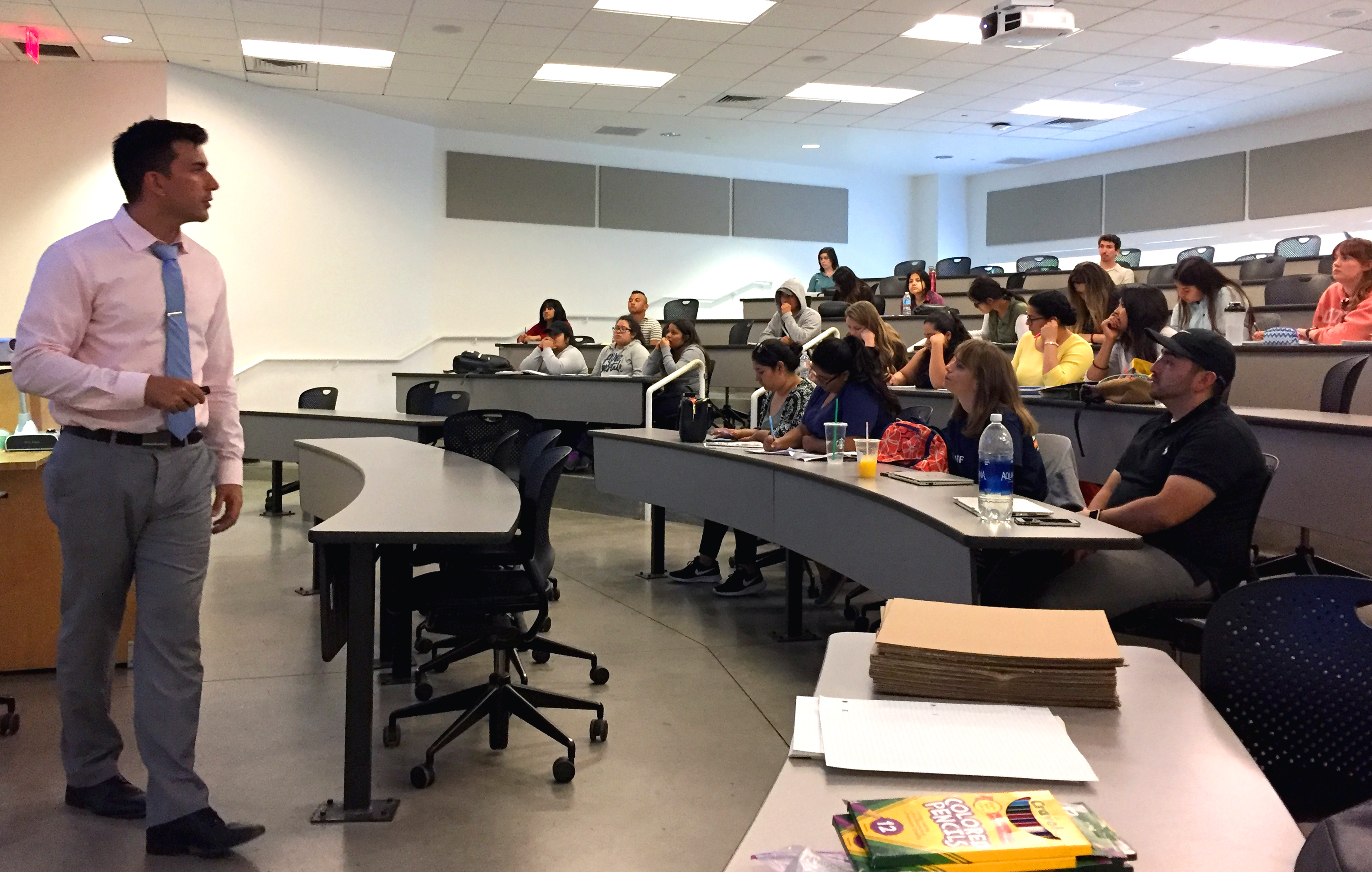 The EPDC helps educators bring NASA STEM content into the classroom through workshops, webinars and more. Image credit: NASA/JPL-Caltech
One school in particular took its program to another level with the help of the EPDC at JPL by building a grade-wide, multi-week mission to Mars. For their annual cross-curricular project, teachers at the San Fernando Institute for Applied Media in Los Angeles were hoping to create a more expansive offering that incorporated the Next Generation Science Standards, or NGSS. I met with teachers over several days to suggest activities and strategies that would meet their goal of getting students engaged in space science across numerous subject areas.
Students were tasked to explore the history of space exploration and the pioneers who led the charge. Using NASA lessons like those found on the JPL Education website, the students built conceptual models of Mars missions, including calculating the budget associated with such a trek. They then constructed robotic rovers capable of traversing a simulated Martian surface and the tools needed to interact with the local environment.
But what really set the program apart was its focus on collaboration. The school thought beyond the content of the lesson itself, making NASA badges for each student and having them refer to each other as "doctor." Students designed their own team name and logo. They also used Web-based apps to capture pictures and videos of their work during each class and posted them online, allowing groups to digitally follow the revisions and lessons learned by their classmates. As a year-end culminating event, students presented their work in front of their classmates, and I was fortunate to be in attendance to celebrate the hard work of the teachers and students.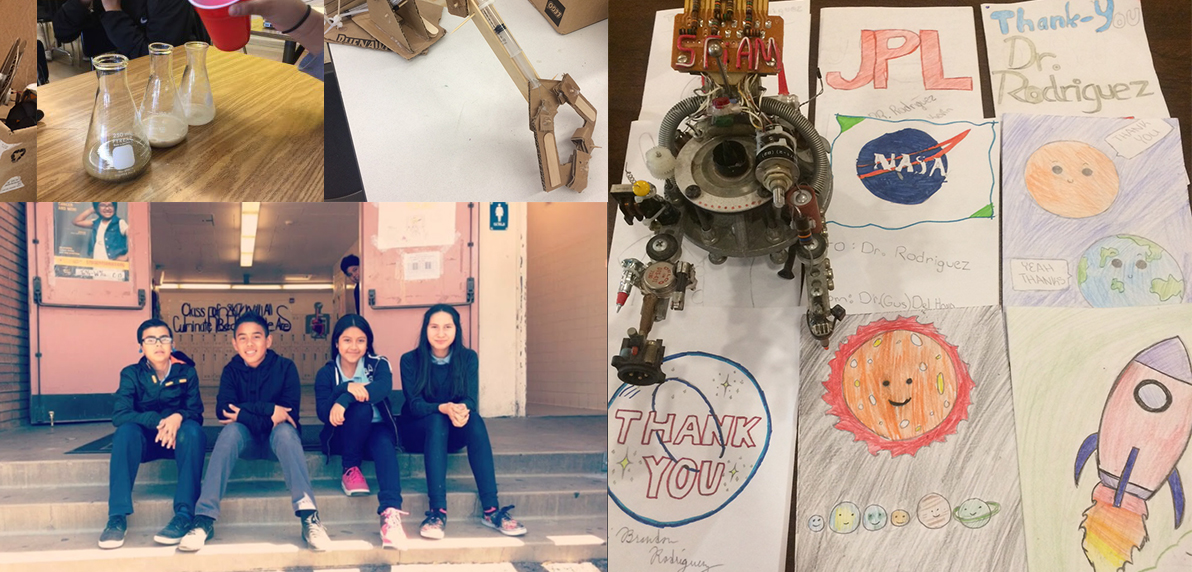 Working with the EPDC at JPL, educators at the San Fernando Institute for Applied Media in Los Angeles designed a multi-week project that had students create a mission to Mars. The project included testing samples of "Martian soil" for signs of microbial life (top left) and creating a hydraulic arm to interact with a simulated Mars surface (top center). Image credit: NASA/JPL-Caltech
In Chicago, Burley Elementary staff reached out to me via our distance learning program to revise an existing lesson for an elementary-level special education audience. Working together, the staff and I created a project using JPL's NGSS-aligned Touchdown lesson to demonstrate the value of the engineering design process, revision and collaboration.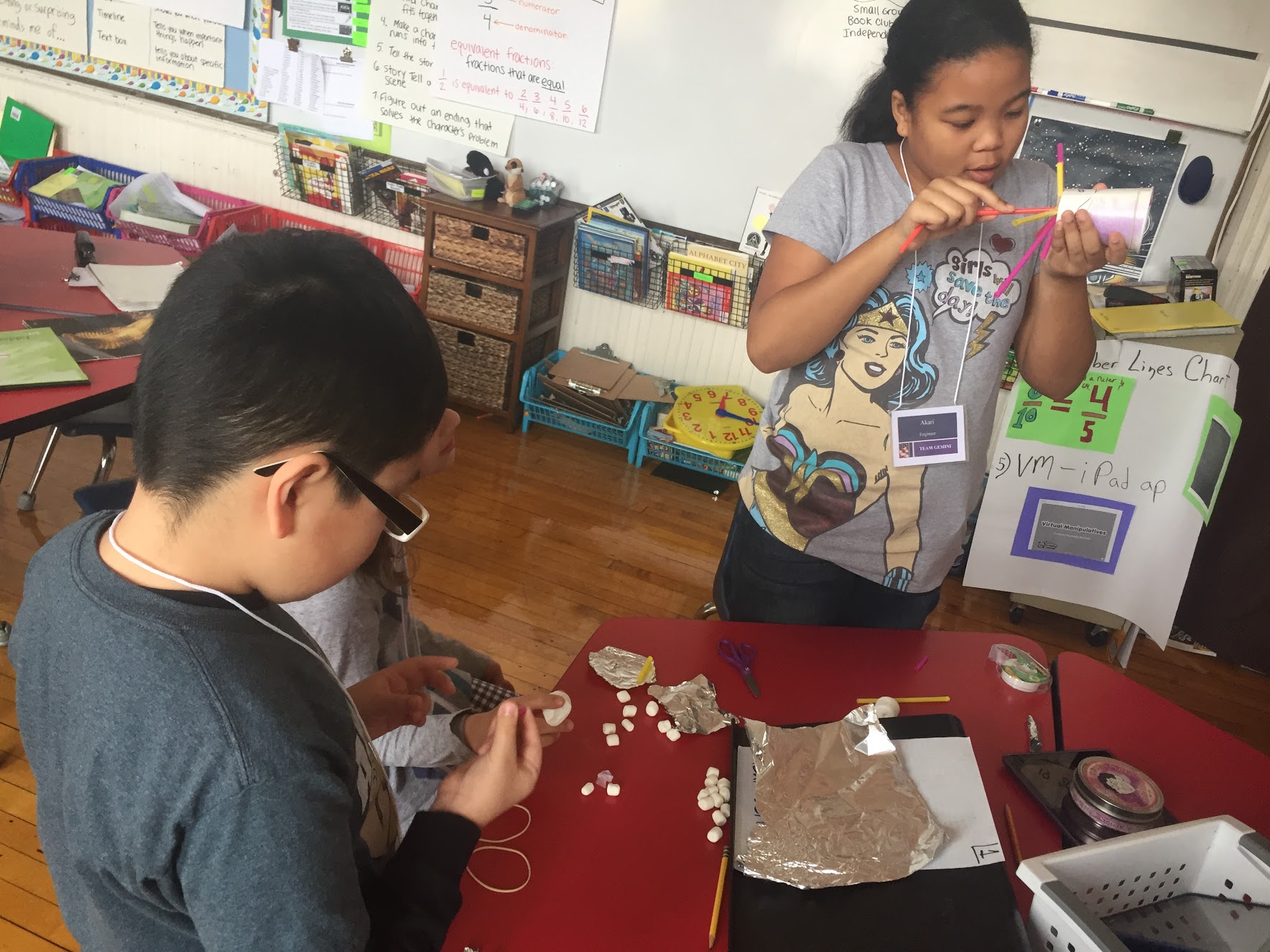 Students at Burley Elementry in Chicago design lunar landers as part of JPL's NGSS-aligned Touchdown lesson. Burley Elementary teachers worked with the EPDC at JPL to modify the lesson for their students. Image credit: NASA/JPL-Caltech
At the onset of the project, students were tasked to develop a spacecraft capable of landing astronauts safely on a distant planet. Each day concluded with students testing their designs and documenting the changes they made. Again, student groups captured their revisions digitally, praising others and crediting them for ideas that influenced their work. As a result, student groups learned the value of collaboration over competition.
From the educator's point of view, the evolution of students' designs also provided a narrative for assessment: Each student group had three designs constructed along with written and recorded diaries discussing the changes they made. The rubric included analysis of their own trials as well as the peer designs that shaped their future trials, creating in-depth student storyboards.
In both of these cases, the educators' creativity, expertise and interest in creating novel opportunities for professional development and student engagement helped elevate the quality of the EPDC's offerings and expand the scope of JPL's STEM lessons. I've since been able to incorporate the ideas and strategies created during these projects into other workshops and lessons, sharing them with an even wider group of educators and classrooms. While not every collaboration between the EPDC and educators need be multi-day endeavors, even when done on a small scale, they can have a big impact.
Looking to bring NASA science into your classroom or need help customizing lessons for your students and staff? The EPDC at JPL serves educators in the greater Los Angeles area. Contact JPL education specialist Brandon Rodriguez at brandon.rodriguez@jpl.nasa.gov. Note: Due to the popularity of EPDC programs, JPL may not be able to fulfill all requests.
Outside the Southern California area? The EPDC operates in all 50 states. To find an EPDC specialist near you, see https://www.txstate-epdc.net/nasa-centers/.
The Educator Professional Development Collaborative (EPDC) is managed by Texas State University as part of the NASA Office of Education. A free service for K-12 educators nationwide, the EPDC connects educators with the classroom tools and resources they need to foster students' passion for careers in STEM and produce the next generation of scientists and engineers.
TAGS: Professional Development, Workshops, Teachers, Educators, STEM, Science, Engineering, EPDC
---
When the offer letter arrived from NASA's Jet Propulsion Laboratory, Kiana Williams could hardly believe it. Thousands of science and engineering students apply each year for internships at the lab known for its dare-anything missions to the planets and beyond. Williams never expected it would be her first internship.
"It actually took me about a week to accept that it was a real offer and that I'd actually be coming to intern at NASA/JPL," she said.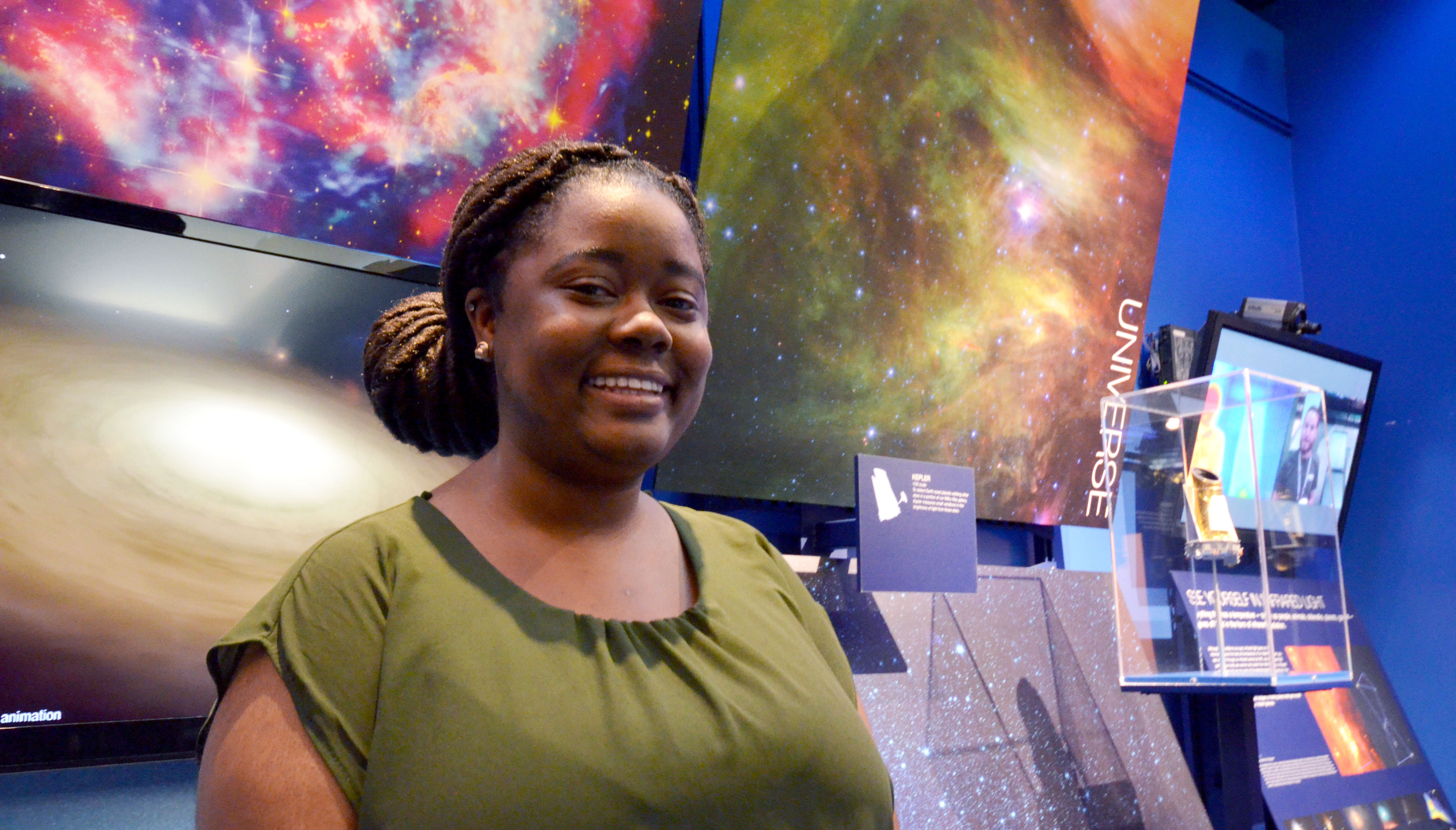 Mechanical engineering student Kiana Williams grew up near JPL in Southern California, but she never thought to apply for an internship until JPL's Education Office visited her university in Alabama. Now, a first-time intern, she says she realizes, "Oh, I can do this." Image credit: NASA/JPL-Caltech
This summer, Williams is joining more than 700 undergraduate, graduate and doctoral students for internships at JPL in Pasadena, California. Over 10 weeks, they will design new ways to study stars, investigate icy moons thought to be hospitable to life, and even help choose a landing spot for the next Mars rover.
"I get the opportunity to design an entire space telescope from top to bottom," said Williams, a senior mechanical engineering student at Tuskegee University in Alabama. "It's kind of a big task, but at the same time it's fun, so it makes my day go really quickly."
One of 10 NASA field centers, JPL is the birthplace of spacecraft and instruments that have explored every planet in the solar system, studied our home planet and looked beyond to discover new worlds. It doesn't just design and build spacecraft, it also operates them, and collects and studies the science they return.
"It's the only place in the world where everyone needed to conceive of, design, build, launch and land spacecraft, get the science data and write the papers about that science data are all in one place," said Matt Golombek, a JPL scientist whose interns over the years have helped choose the landing sites for all five Mars rovers and landers since Pathfinder in 1997.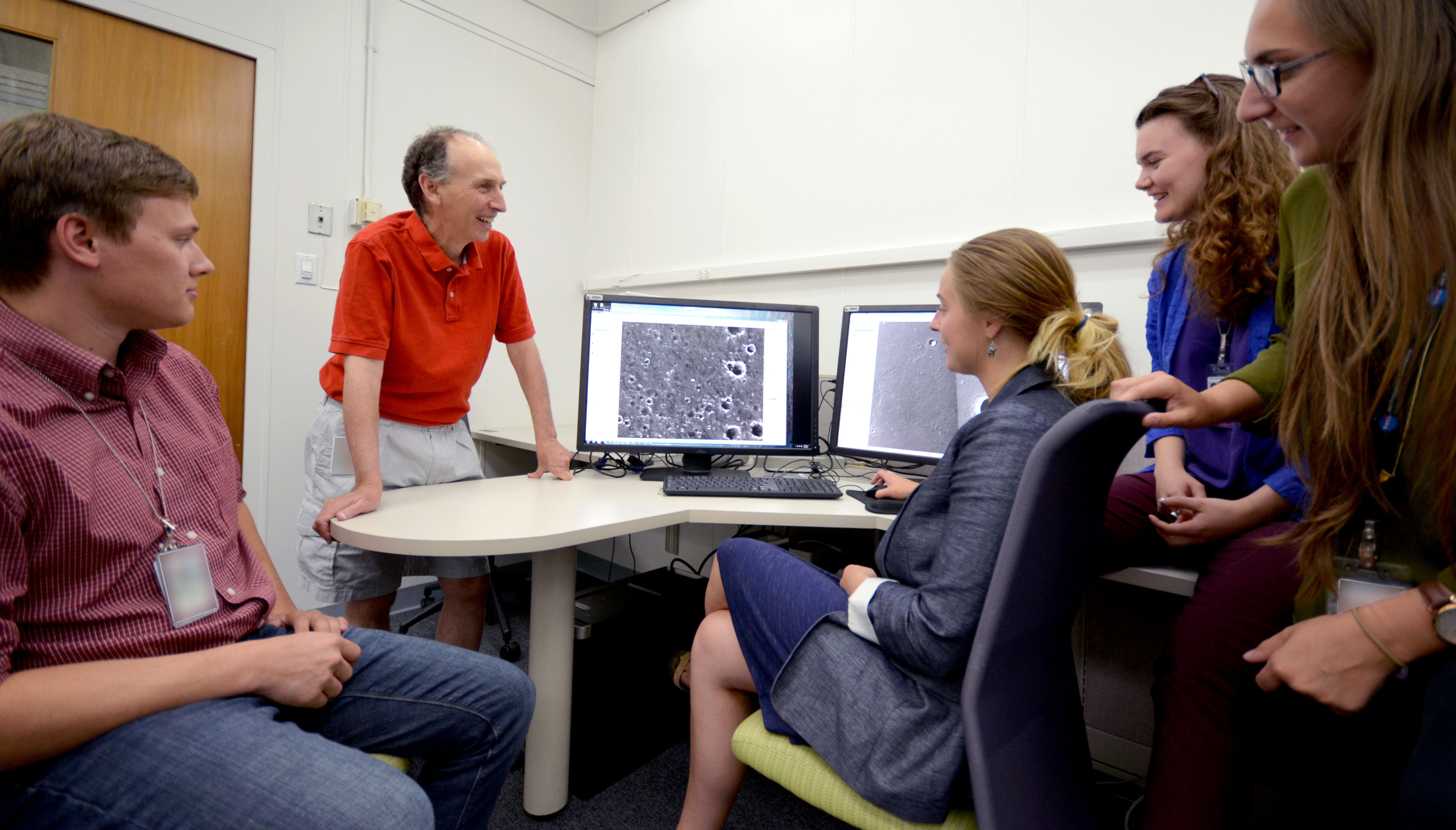 The self-proclaimed "landing site dude," Matt Golombek brings in a host of geology students each year to help identify landing sites on Mars. He has five students this summer helping with site selections for three upcoming missions, including Mars 2020. He says it's rewarding to see how students' JPL experience has a positive impact on their future no matter what they go on to do. (From left to right: Marshall Trautman, Matt Golombek, Rachel Hausman, Carol Hundal, Shannon Hibbard.) Image credit: NASA/JPL-Caltech
The lab's internship programs give students studying everything from aerospace engineering to computer science and chemistry the chance to do research with NASA scientists, build spacecraft, and create new technology for future missions.
With more than 20 active spacecraft plus a to-do list that includes missions to Mars, Jupiter's moon Europa and the asteroid belt, JPL has no shortage of projects ripe for students who are eager for careers in space exploration.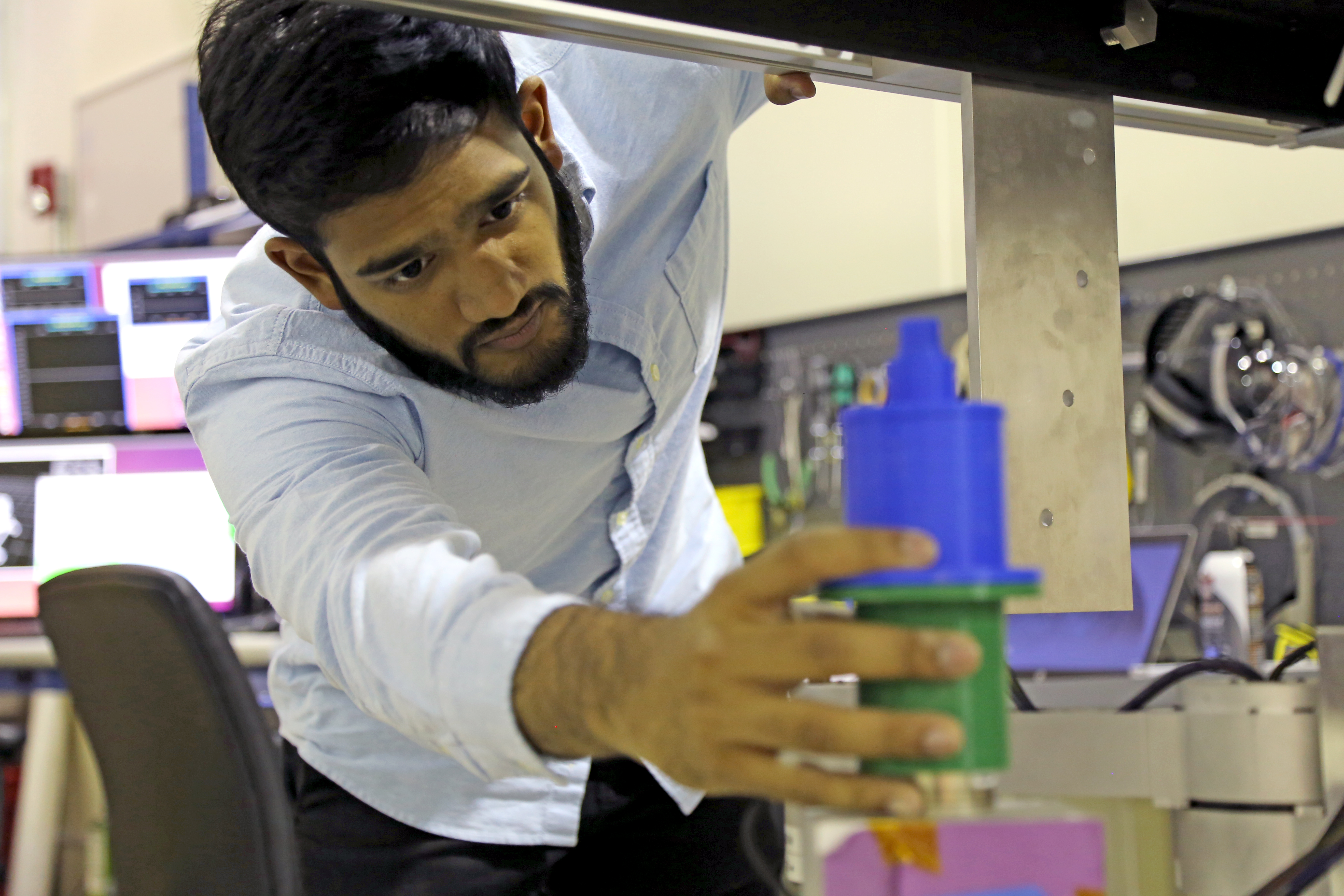 Nirmal Patel says that in addition to the wow-factor of testing parts for a Mars rover, his JPL internship is a chance to meet other engineers and scientists all united in a common goal. "Here, everyone wants to explore. And when you have that common goal, it has a different atmosphere," he said. Image credit: NASA/JPL-Caltech
"It's just amazing knowing that what we're doing now will also be replicated on Mars in a few years," said Nirmal Patel, a mechanical engineering student at the University of Michigan who is testing parts for the Mars 2020 rover. "It's surreal almost. I'm still a student but I'm getting to have an impact on this project."
David Dubois, a three-time intern who studies planetary science at the University of Versailles Saint Quentin near Paris, returned to JPL this summer to continue his research on icy moons around Saturn, Jupiter and Neptune. Using data from the Cassini mission (which will end its nearly 13-year mission at Saturn this September) he is modeling the atmosphere of Saturn's moon Titan to better understand its chemical environment – and maybe discover if it could support life.
He says that in addition to access to one-of-a-kind data directly from spacecraft, JPL offers the opportunity to explore new fields of science and even career paths, if students are open to it.
"Being open is certainly something that I've learned from JPL, not being afraid of tackling different problems in different fields," said Dubois, who is about to publish his first paper as a lead author based on his research at JPL.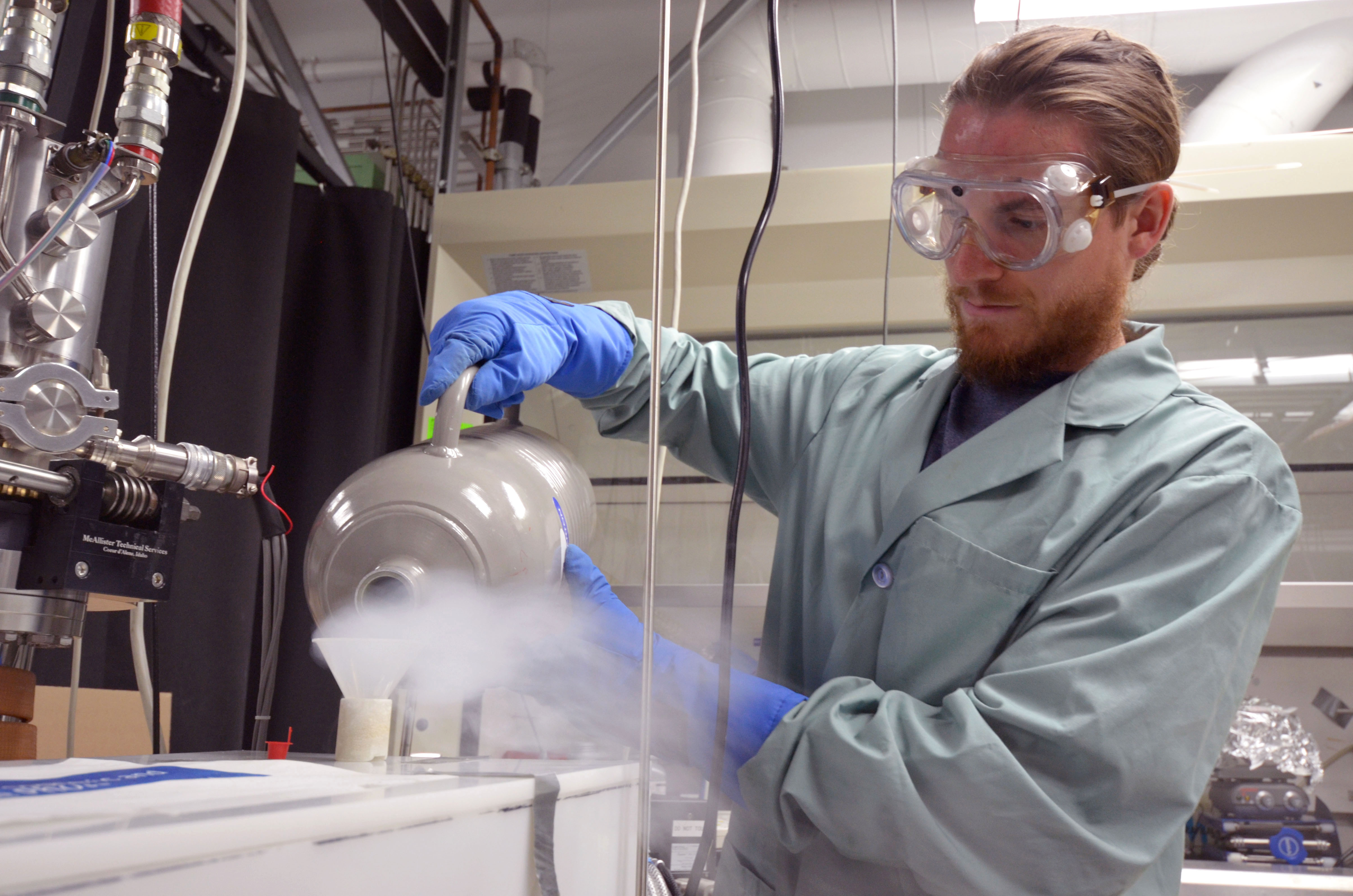 When he's not doing research, David Dubois says he focuses much of his time on outreach, which is one of his other passions. This year, he traveled to India with a friend to visit schools and villages and encourage students there to pursue science. "I like to say that I think anybody is a scientist," he said, "as long as you try to provide an answer to questions around you." Image credit: NASA/JPL-Caltech
It's precisely that exposure to its unique career offerings in science, technology, engineering and math – and a foot in the door – that JPL's Education Office, which manages the lab's internship programs, is working to provide to more students.
"Our students are operating right alongside the mentors and participating in the discovery process," said Adrian Ponce, who manages JPL's higher education group. "It's a fantastic opportunity for them, and it's also a great opportunity for JPL. Our internship programs are designed to bring in students from diverse backgrounds and underrepresented communities who share new ways of thinking and analyzing challenges. Many of them will become the next generation of innovators – and not just at JPL."
For Williams, who plans to continue toward a master's degree in design engineering after she graduates in December, her time at JPL is confirmation that she's on the right path and has the motivation to keep going.
"It makes me feel like school is worth it," said Williams of her internship experience so far. "All the stress I'm going through at school will be worth it because you can find places that are like JPL, that make your job fun."
Explore JPL's summer and year-round internship programs and apply at: https://www.jpl.nasa.gov/edu/intern
The laboratory's STEM internship and fellowship programs are managed by the JPL Education Office. Extending the NASA Office of Education's reach, JPL Education seeks to create the next generation of scientists, engineers, technologists and space explorers by supporting educators and bringing the excitement of NASA missions and science to learners of all ages.
TAGS: Intern, Mars 2020, Europa, Cassini, Titan, Science, Engineering, Missions