Layover on an Antarctic Journey Part II: Christchurch, New Zealand and the Clothing Distribution Center
After arriving at my hotel in Christchurch around 1 a.m., I was up and on a shuttle to the Clothing Distribution Center (CDC) at 8:15 a.m. There we had an orientation session in the US Antarctic Passenger Terminal and were issued our Extreme Cold Weather (ECW) gear. (You'll notice that those of us in science enjoy our TLAs (three letter acronyms)!) The gear includes BIG RED (my favorite parka), wind pants, hats, gloves, goggles, fleece base layers, and bunny boots. The orientation procedures included a computer check to make sure that we don't bring any viruses that could infect the network in McMurdo as well as a form to make sure we had all received our flu vaccinations.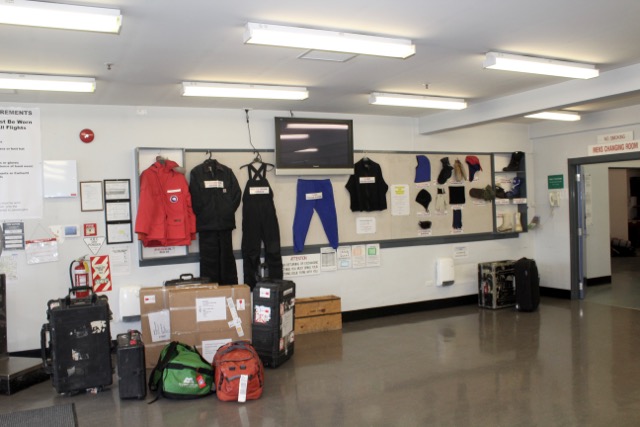 ECW (extreme cold weather) gear issued by the CDC (Clothing Distribution Center). Image credit: Jenna Kloosterman
After the CDC, we had the rest of the day off. I met up with my friend Eric from the University of Arizona, his wife Valerie, and my colleague Craig, who was also heading down to the ice with me. Upon my request, we wandered down to the Rose Garden. Since there are no plants in Antarctica, I really wanted one last chance to smell the roses (literally!). From there we walked through a park in bloom with beautiful flowers and birds to the center of town.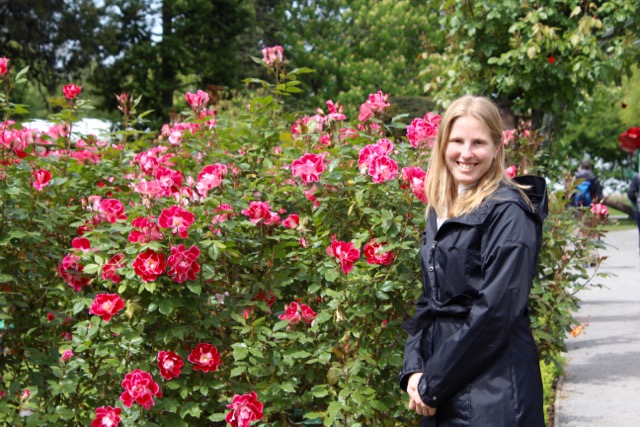 The Rose Garden in Christchurch, New Zealand. My last interaction with plant life until January! Image credit: Jenna Kloosterman
Due to a series of devastating earthquakes in 2010 and 2011 the town center was cordoned offthe last time I was in Christchurch. The city has been rebuilding slowly, and now the center has been reopened and most of the unsafe, damaged buildings have been imploded. There's a cathedral in the center (shown below) with reinforcements. It is still not safe to enter, and the only picture I could take was through a chain link fence. From there, we went to the only cathedral left standing -- called the Cardboard Cathedral. I honestly do not understand the reason it is called the Cardboard Cathedral, but it was the only thing left undamaged in the town center after the earthquakes.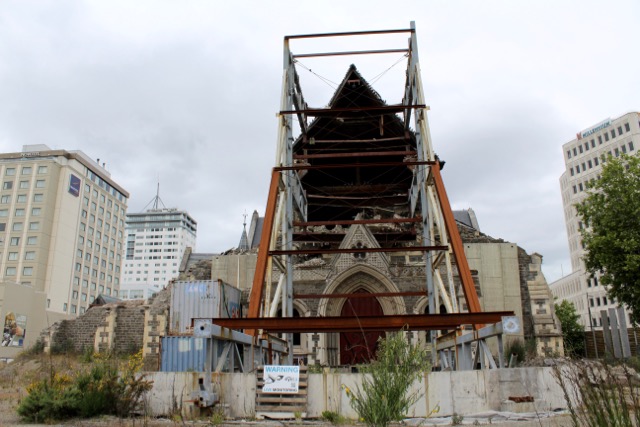 A cathedral in the center of Christchurch suffered heavy damage in the earthquakes of 2010-2011. Image Credit: Jenna Kloosterman
We had an early dinner at Maharaja Indian Restaurant next to our hotel. To my disappointment, my last sunset until January was clouded over and I didn't see much. I will have to wait until I return to Christchurch for the next one. I went to bed early for a 4:45 a.m. pickup for my ice flight!
TAGS:STO-2, ANTARCTICA, MCMURDO, ASTRONOMY, ASTROPHYSICS, BALLOONING